Reading Time:
4
minutes
Last Updated on August 9, 2022 by Forest Master
There's plenty of log saw horses on the market; a few are good and others are better, but nothing compares to the Forest Master BLS-3H bulk log sawhorse. Let's take a look at the key reasons why.
What is a log saw horse?
First, let's take a look at what a saw horse actually is and the purpose of the much needed tool.
A saw horse is a strong frame made from wood, metal, plastic etc. designed to hold material that is going to be cut. Not to be confused with log saw horses designed specifically to make the process of cutting logs down to size easier, but also safer and more efficient.
Used by professionals and domestic users alike, log saw horses are an invaluable piece of equipment for anyone working with full size logs.
A log saw horse provides a stable platform to hold a log elevated off the ground, ensuring a clean chainsaw cut can be made without damaging the chain.
Which is the safest log saw horse on the market?
When it comes to log saw horses, you can't afford to take any risks. Working with chainsaws there is a fine margin between efficiently chopping logs down to size and causing potentially life-threatening injury or even worse.. damaging your chainsaw.
Jokes aside; commonly seen on competitor log saw horses is some form of metal support either directly below the log, or near the log saw horses base. These metal bars can pose a serious threat in either damaging the teeth on your chainsaw or, in worst-case scenarios the saw can bite on the metal bar, ride up and come back at the user.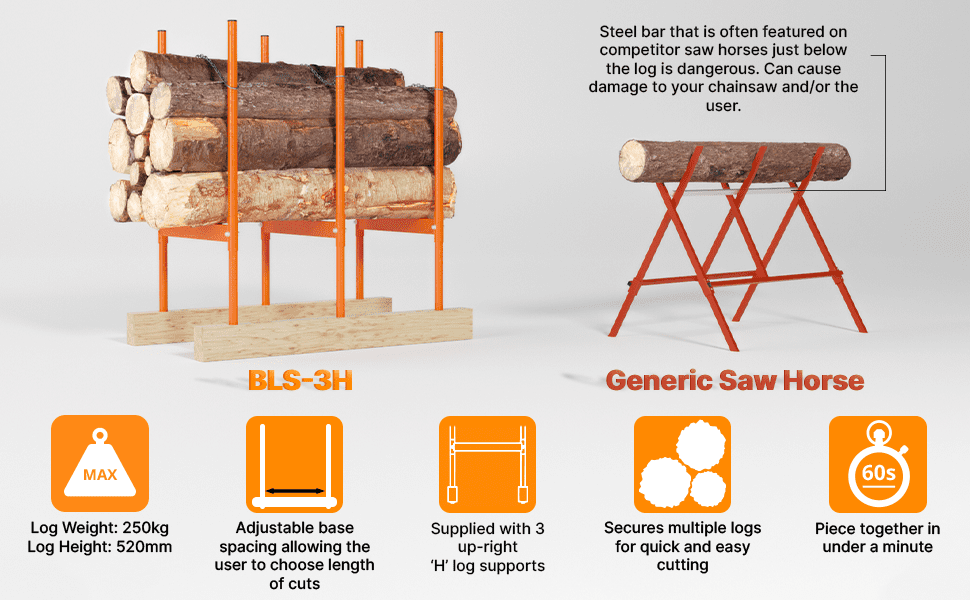 The BLS-3H eliminates this by having an essential 30 cm of clearance from the wooden base supports. This allows the user to perform smooth, clean cuts through a full stack of logs without worrying about catching the saw.
Even if you are using an extra long chainsaw bar and happen to catch the base supports, this won't cause any major damage to your chain as they are made of wood.
What is the quickest way to cut logs down to size?
Of course the quickest and most efficient way to start cutting logs to length is with a chainsaw and a log sawhorse.
The only problem is most log saw horses only either support 1 large log at a time, or, multiple small logs but cannot support any real weight. This means going back and forth from the log pile, saw horse, chainsaw and back again.
If you've experienced anything like this before, you know this costs you precious daylight hours and countless other expenses during the working day.
With the BLS-3H you can effortlessly cut through multiple logs up to a whopping 250 kg. This also features 3 x patented self-securing chains that will hold each section of log in place when cutting, removing the need to stop and adjust the logs or worry about them falling off.
Our patented design chains (UK Patent No.2520055) automatically drop to retain tension when the logs are cut or become loose.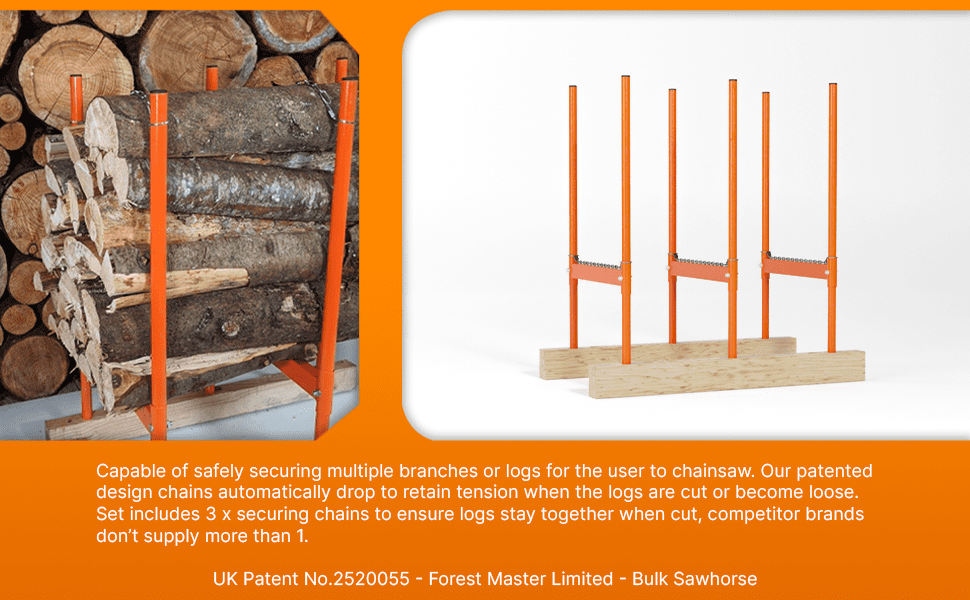 These features combined with the ability to adjust the side log supports by 50 mm into the predrilled holes makes this log saw horse the most capable and adaptable on the market.
Worried about transit or storage?
Storage is a breeze with the BLS-3H as the log supports can be removed from the wooden base pieces and stored in the fullest of garden sheds, it can even be packed into the boot of a car with plenty of room to spare.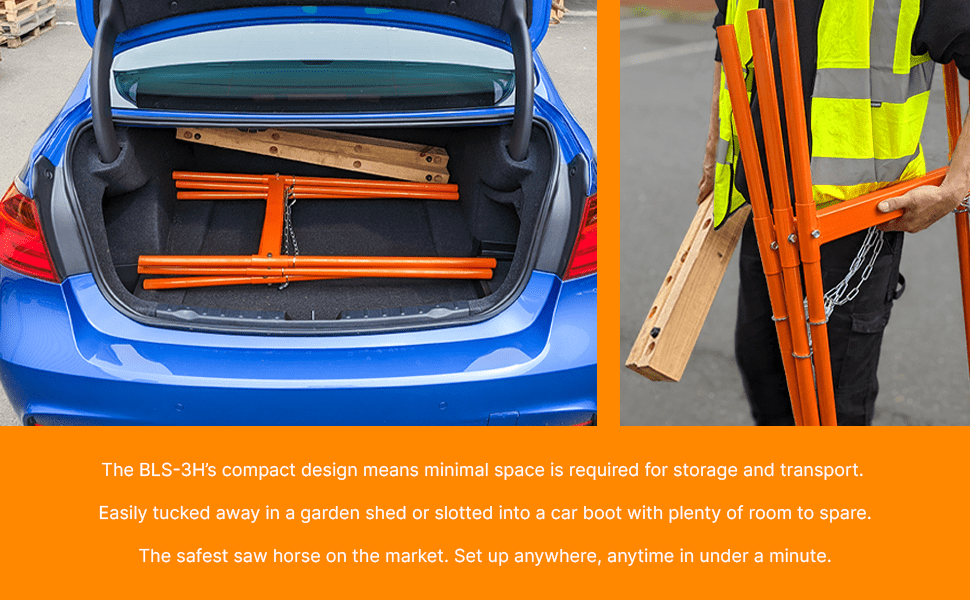 Key features of the BLS-3H
To round up; let's take a look at just a few of the key features of the BLS-3H.
Safety
Easily cut multiple logs at once
Patented self-securing chains
Compact and easy to store
Adjustable support distance
Up to 250 kg log capacity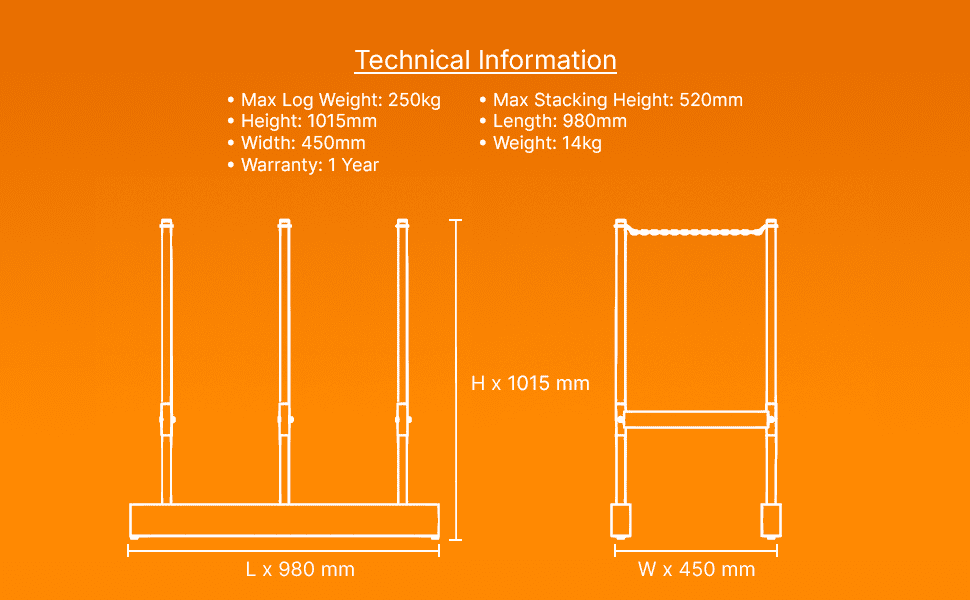 When comparing these features to competitor products on the market; you will not find another log sawhorse at a similar price point which is perfectly engineered to provide the same level of efficiency, safety and capability.
If you're new to your chainsaw; be sure to check out our blog on safety equipment to ensure you're not going in blind. Stay safe!