Reading Time:
4
minutes
Last Updated on June 28, 2022 by Forest Master
Forest Master presents a varied range of electric and petrol wood chippers, garden shredders and mulchers for different power requirements, uses and sizes. One product, however, has gained major traction over the past year for its innovative design and power.
The Forest Master FM6DD Petrol Wood Chipper claims itself as the best wood chipper on the market, competing with the likes of Bosch and its AXT25 and T-Mech's 15hp petrol chipper. Is it really the case, and what can you expect from such an advanced bit of kit?
Wood chippers are in theory very simple. There are a number of different approaches to how the machinery chews up a branch or piece of shrubbery, each with its own pros and cons. Powered either by an electric motor or a small engine, obviously the more powerful the mechanism inside, generally the better it is at chipping. However, this is not always the case, as ingenuity on behalf of the designers plays a part as with anything.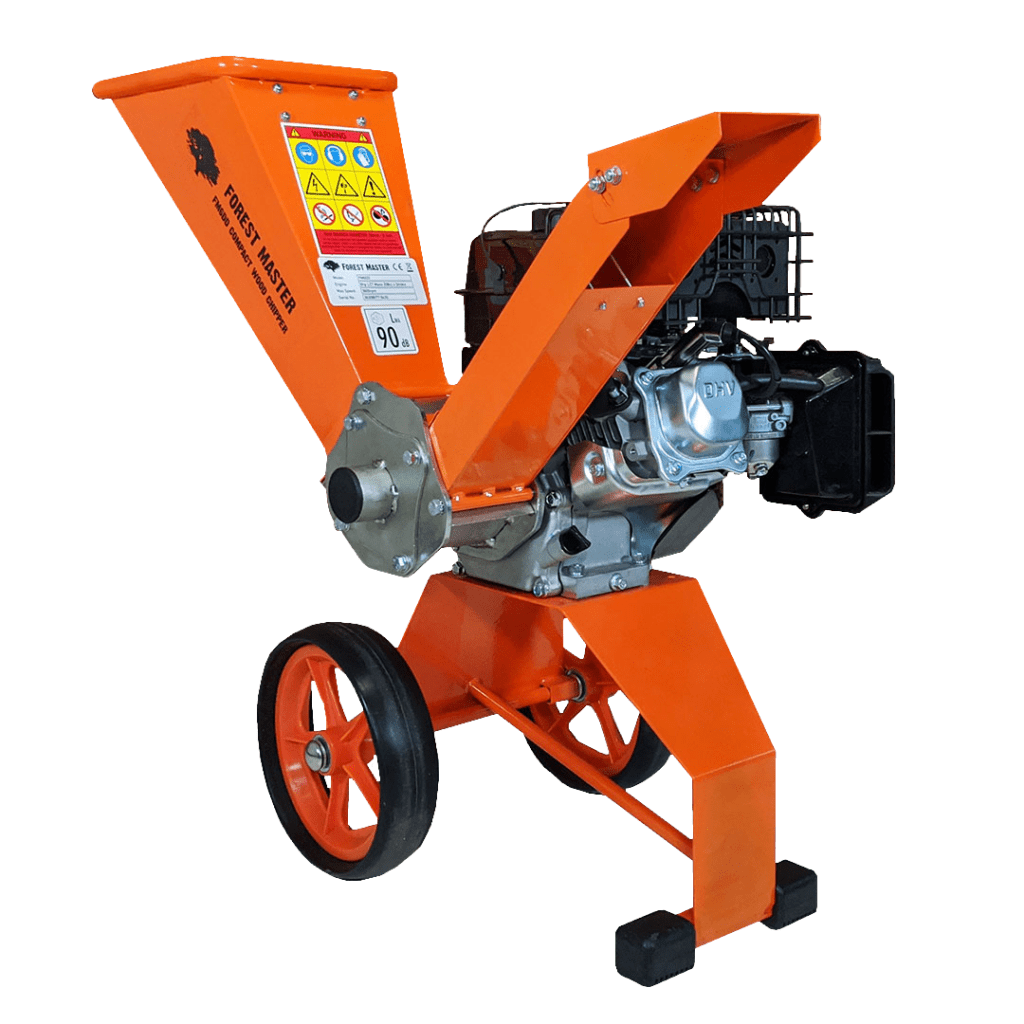 At a Glance
The Forest Master FM6DD features a powerful four-stroke 208cc engine capable of tearing through branches and foliage of up to 2 inches thick at a staggering rate of 3600rpm. This compact piece of kit features a direct drive without belts and is therefore guaranteed to never lose performance, and will resist the test of time. And on top of all that features an ingenious manually adjustable chute allowing you to dispose of the waste straight into a wheelbarrow or bag. Shredding has never been easier.
Direct Drive Technology
Whilst a majority of chippers have a motor that's connected to a drive belt, which in turn is connected to a blade, the FM6DD does not feature a belt and is instead a direct drive considerably increasing the longevity of the machinery. Moreover, research undertaken by engineers at Forest Master found that the most likely piece of the machine to give out was the belt, leading to frequent services and increasing the running and maintenance costs. A belt can't be faulty if there's no belt to go faulty.
Want to learn more about why Direct Drive Technology matters, click to read our blog on why direct drive systems are better than belt drive systems. Less maintenance = fewer headaches = happy chipping!
Unparalleled Weight to Power Ratio
We've not even mentioned the fact that the weight-to-power ratio is currently unrivalled on the market. The average customer wants something lightweight and portable. Looking at the Bosch AXT 25 which is the closest to the FM6DD in terms of power output, weighs twice as much at 75kg as opposed to 38kg. This allows the FM6DD to be stored and transported much easier, fitting through a standard-sized garden gate with ease and fitting inside most sheds with room to spare.
In fact, the Forest Master model has been given top spots in highly accredited forestry review sites such as bestreviewer.co.uk and upgardener.co.uk. But this isn't just a post for us to boast about how good our own product is (even though we know it is) so we'll compare it against a few other models for you to make up your own mind.
| | | | |
| --- | --- | --- | --- |
| | | | |
| Name and Model | Forest Master FM6DD Compact Shredder | Bosch AXT 25 TC | T-Mech 15HP Petrol Wood Chipper 420cc |
| Power Source | Petrol | Petrol | Petrol |
| Power | 6HP/208cc | 6.5hp/196cc | 2,500w |
| Weight | 38kg | 75kg | 31.3kg |
You can see for yourself, that it's hard to argue that there is the most cost-effective wood chipper available on the market. Ready to purchase yours? Head over to Forest-Master.com to pick up the FM6DD now.
If you'd like to learn about how to look after your machine for years and years to come after your purchase, check out our blog post on how to maintain a petrol wood chipper.
Meet Forest Master's compact mini wood chipper.
Better yet, what if I told you your petrol wood chipper could also mulch and shred? Forest Master's new FM6DD-Mul can do just that – incredible right? Offering a 3-in-1 solution to all of your gardening, composting, and mulching needs. Compact, portable, and robust – are three words I'd use to describe this beauty.
Capable of taking all wet and dry garden matter, it is the ultimate tool in any arsenal. You can rotate the drum to match your need! Mulching a hard material – rotate the chute vertical. Shredding softer materials – make the chute less steep. It's that easy. Visit Forest-Master.com to find out more.
Want to know some suggestions on what you can put through your chipper, click here for a guide on just that. Likewise, ever wondered if you can mulch wood? We get asked that a lot, click here to find out more.
Want to see more? Check out the videos of it in action below: