Reading Time:
5
minutes
Last Updated on August 9, 2022 by Forest Master
If you're anything like me, you want to get the absolute most out of any purchase. How about getting into the Olympic spirit by using your sawhorse to practice hurdles? No? Okay then, well lucky for you we've got 10 incredible suggestions to get the most out of your sawhorse! Here's How To Use A Sawhorse – Our Top 10 Surprise Uses
| | |
| --- | --- |
| Thou Shall Not Pass! | Block Off those Treturous |
| Air Your Laundry (or materials) | Your Own Free Drying Rack |
| Table For 2, 3, or 4 & more at Lunch | If you're out on a job – use it as a dinner table! |
| Chop, Chop | Every considered using it for it a cutting board? |
| Stand Tall(er) | Free & Easy scaffold supports for the hard to reach areas |
| A portable workbench | (we couldn't think of a pun for this one) |
| Keep the crown tools safe | Get them all securely placed in one area |
| Prop up the party | Why not pop a TV or radio stand on there? |
| A person's best friend | Got any hard tight spaces |
| A bit of everything | A tool that's as multifaceted as you – great right? |
Table of contents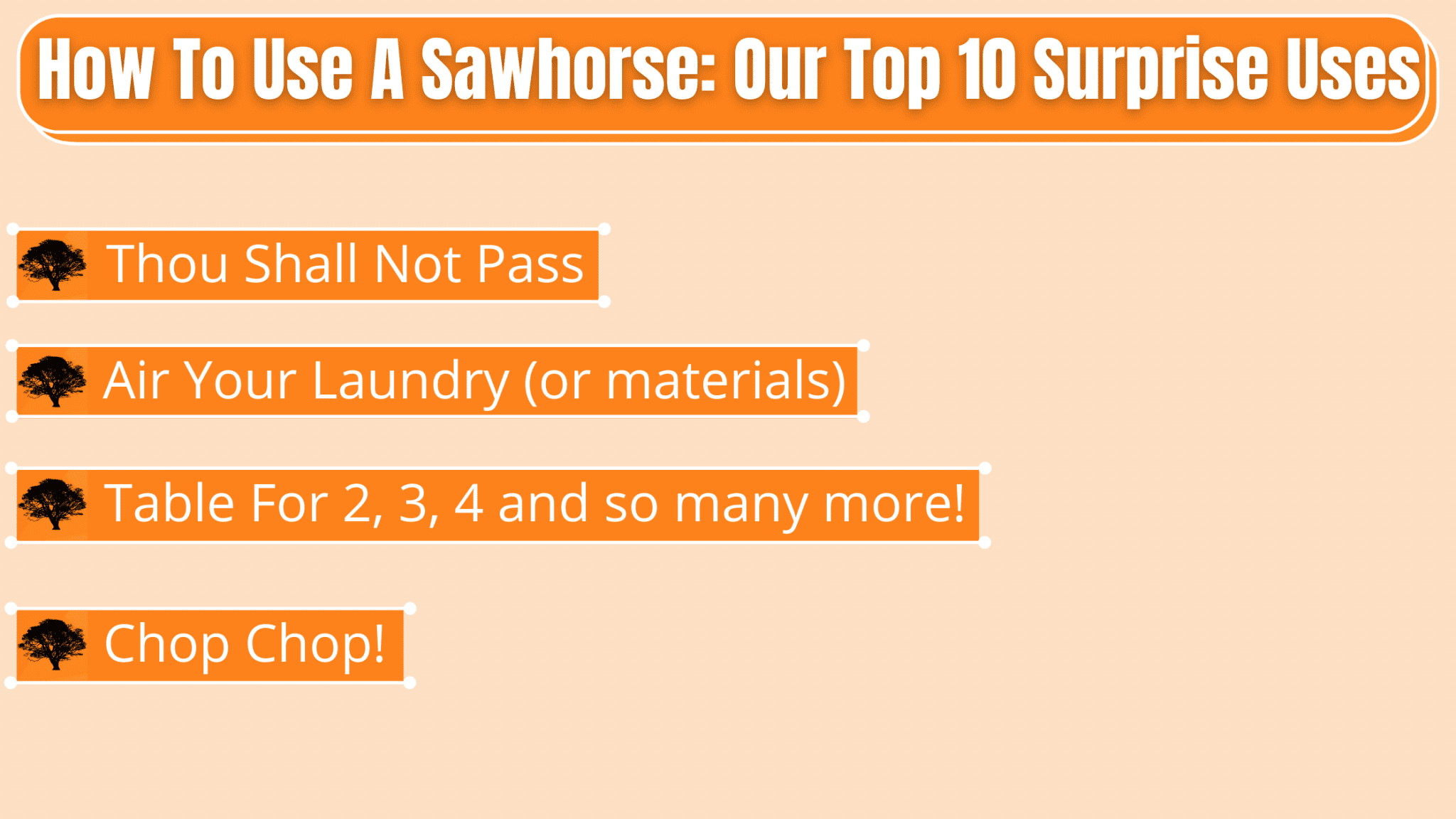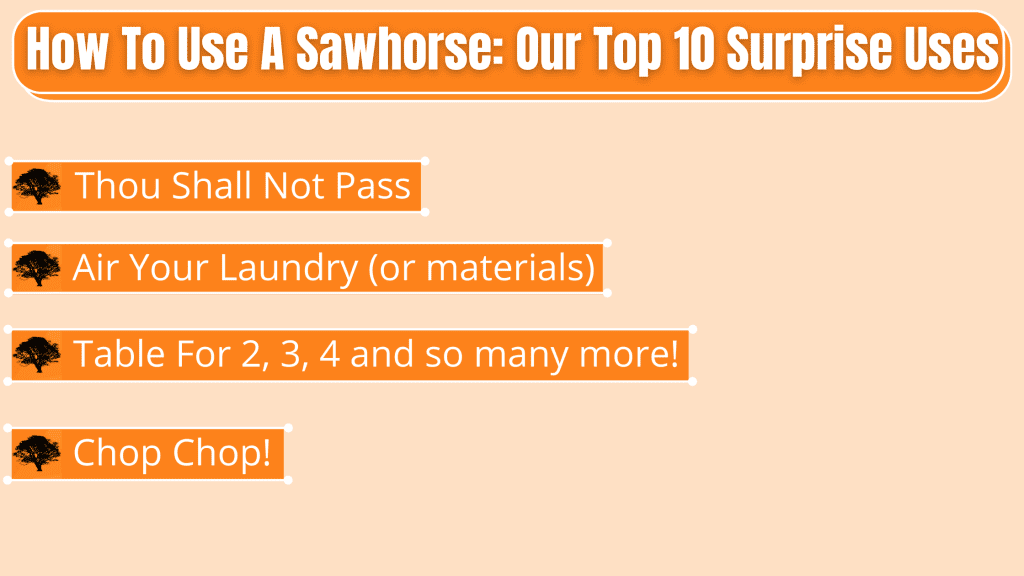 How To Use A Sawhorse: Thou Shall Not Pass!
Ever been sat on a one-man job and watched the client walked into a hazardous area? Wish you had an extra pair of hands? Well if you're asking how to use a sawhorse, why not use it to block an area off. Whether you've got one or several sawhorses going spare – use a rope to create barriers. That way your handy horses will keep you and those around you safe!
Air Your Laundry (or materials)
Ever found yourself caught out on a job, pop some planks in between your Sawhorses, and before you know if – you've got a drying rack! Whether it's a piece of art or pieces of trim – these will see you through. Likewise, while you're maximizing your sawhorse – why not maximize your time! Use it as a work surface to get the best return possible.
Table for 2, 3 or 4 and so many more!
In case you hadn't already realized, space can be quite tight on a job! Consequently, you're at the mercy of the facilities provided by the client or company. Whereas this wouldn't be a worry with a sawhorse. No, the portable pals have so many purposes – including a place to eat! In fact, a simple piece of plywood sees it go from a tool to a table!
Summary
Ultimately, these three simple tips can help your sawhorse into a drying rack, a table, or even turn people away! Which one of these had you not thought of before?
Chop, Chop, Chop with your Sawhorse
Ultimately, if you used it as an Air dryer – you may not have thought of this – a cutting board! Nevertheless, by putting smaller pieces of wood under a larger one – you've got your own cutting board! If you've ever wondered how to use a sawhorse to make furniture – well here's your answer!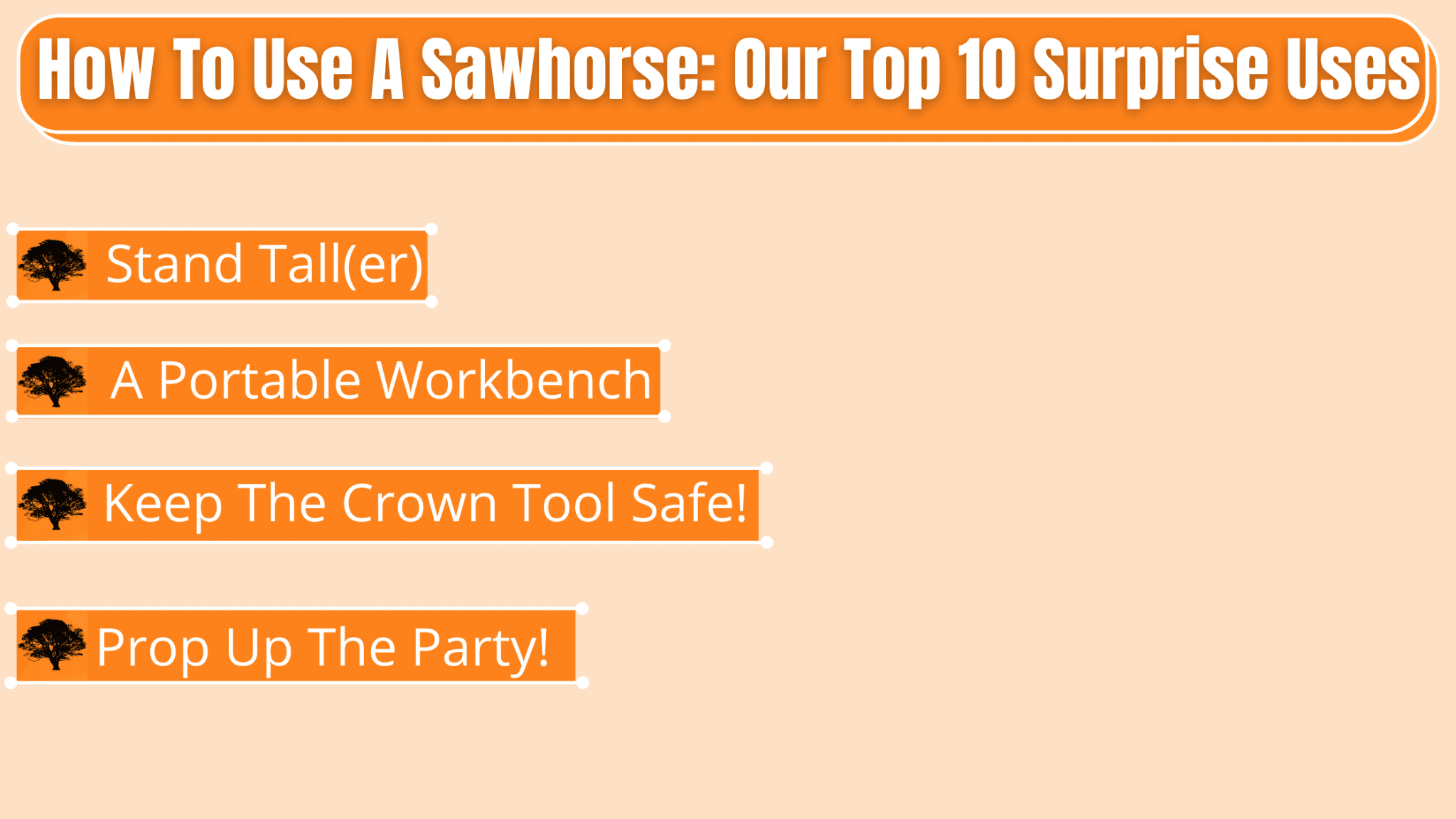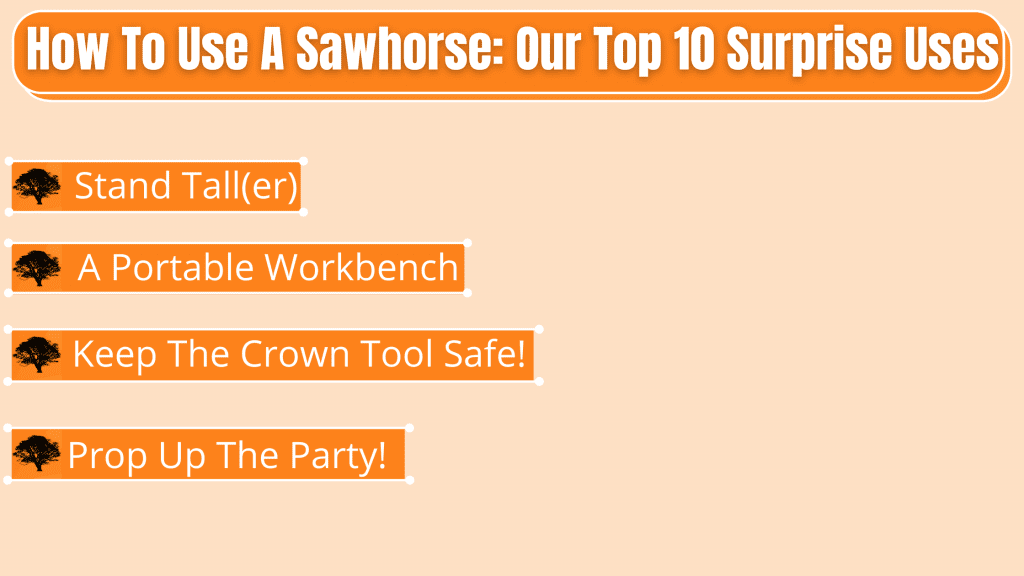 Stand Tall(er)
If you're like me and you're not 6 foot 4″ tall (where my 5 foot 10″ squad at) you might need a step (or two). Again, this is where another of my How To Use A Sawhorse suggestion comes in. Simply ensure that it's on level ground to prevent it from tipping.
How To Use A Sawhorse: A Portable Workbench
If you've ever wondered whether you need a workbench or a sawhorse (we've got a blog for that, click here) – look no further. If you're looking for other ways on how to use a sawhorse – use it as a portable workbench! By using two or more sawhorses and a piece of plywood – you've got a portable workbench! In fact, by securing clamps to both ends, you'll be able to sand and varnish!
Summary
Now that you've read those three suggestions too, aren't you glad you clicked this article! Whether it's building your own chair, sanding down wood, or reaching for the stars (or the ceiling) – a sawhorse will help.
Keep the crown tools safe!
A clean workspace is a clean mind, let's not clutter it up with tools scattered around the floor. Whether it's saving yourself & your back lifting heavy materials. Or, how about ensuring you, your client, or your colleagues don't trip over tools and break their necks (no one wants that)! A sawhorse can provide a good alternative to leaving tools around on a job!
How To Use A Sawhorse: Prop up the Party
We all know how long and tiring the workday can be, but you know what isn't? Your favorite radio channel. Never suffer through a long day in silence ever again! Play the music you love all day and get your job finished your way!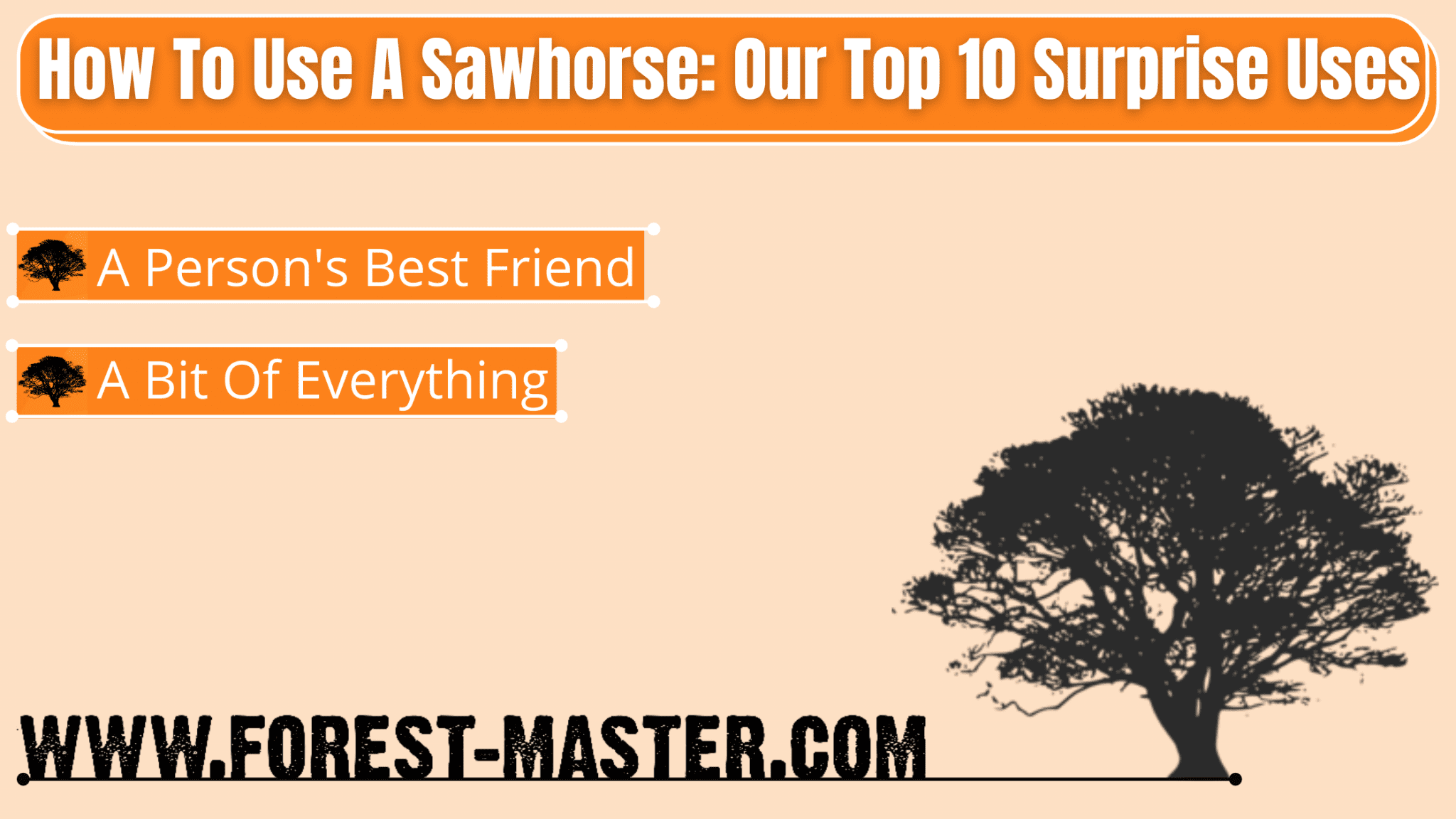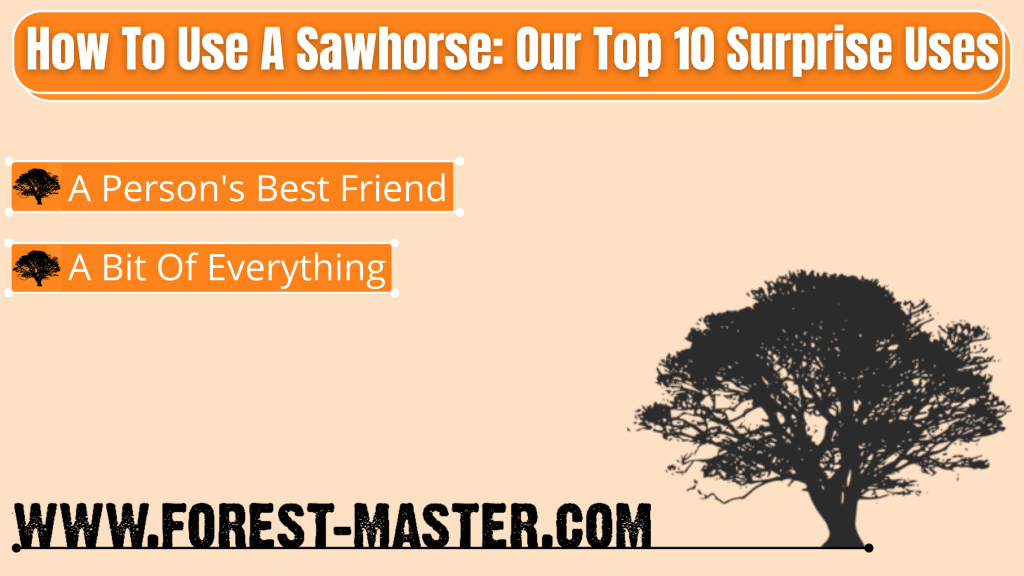 A Person's Best Friend!
Similarly, it's not just the music that it can prop up! These horses are designed with tight spaces in mind so if you're fitting pipes or other complex things – they'll see you through!
Summary
As you can see, sawhorses aren't just crucial for keeping your work going – they can help with morale too! Imagine a hard days graft without the music – not fun.
A Bit Of Everything!
In conclusion, a sawhorse is an incredible all-around piece of kit designed to streamline your DIY needs. Whether it's helping you gain a few inches (every little helps!) or providing an easy place to eat dinner on the go – you need a sawhorse. Likewise, never worry about being trapped in one space ever again; they're portable, precise, and perfect for any and all DIY needs. So, if you've ever wondered how to use a sawhorse – we've cracked the code!
Have you thought of other uses that we've missed off, let us know below! I think still using them to practice hurdles is a sure-fire way to secure Olympic glory. If you've decided you need a sawhorse in your life – check out our full range of them here.
Moreover, if you have thought of something we've missed (I'd be impressed if you have!), tag us on social media! We're on Instagram, Facebook, Twitter and YouTube; tag us for a chance to be a feature on our socials!