Reading Time:
10
minutes
Last Updated on November 11, 2021 by Forest Master
In this article, we will cover the fundamentals of wood splitters and advise you on how to carefully select the best product for you. You can view our full selection of log splitters including manual, electric and petrol options by heading to our log splitter category page.
This articles covers:
Why do you need a wood splitter?
Log Splitters provide a safe, easy and efficient method of splitting wood. It eliminates the hard work of creating firewood or kindling, leaving you able to heat your home without the exhausting and time-consuming work of splitting wood with an axe. If you regularly split wood, then a log splitter is essential.
A number of dangers come with manually splitting logs with an axe, which you must devote constant attention to. As well as the downside of the unfortunate general wear and tear effect that splitting with an axe naturally has on your body.
Another downside of splitting with an axe is the recurring issue of having to pull the axe out of the wood after you've struck it if you don't split the wood the first time. This wastes both time and energy. The Forest Master Manual Smart Splitter ensures that you're hitting the same point of contact in the wood every time, so you don't require the physical strength or stamina it would typically require to split with an axe.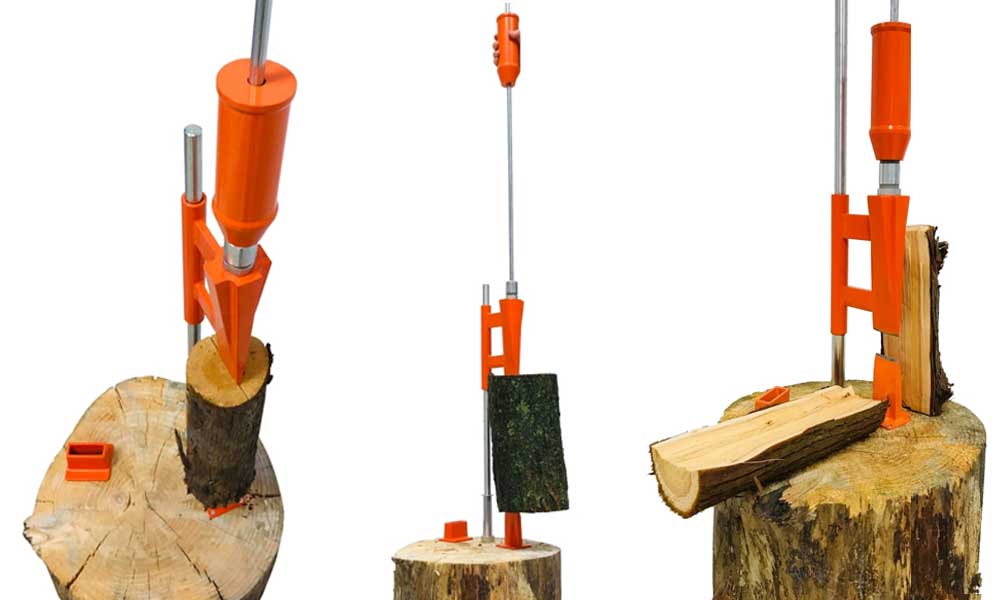 This article further outlines the risks involved. Find out more about the dangers of splitting with an axe by clicking here.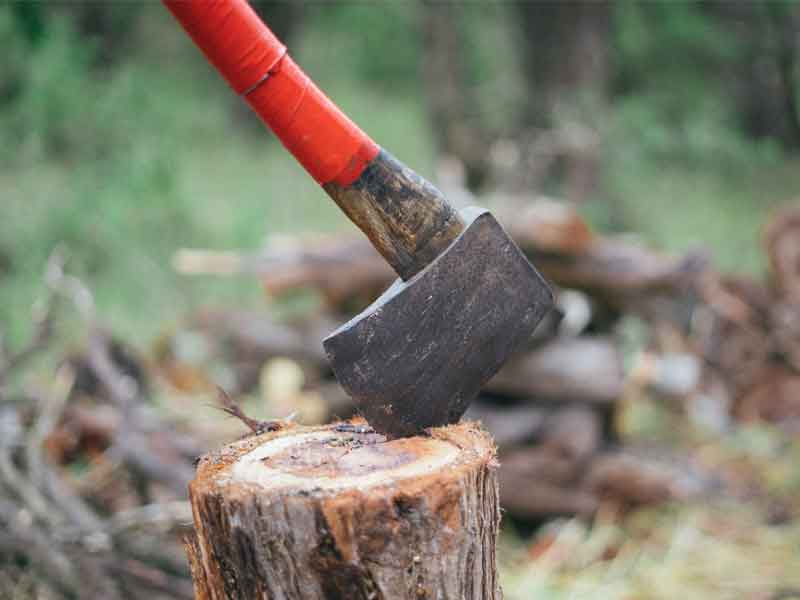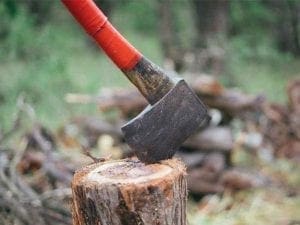 What are the different types of wood splitters?
First, let's cover the different variety of log splitters. We have Electric, Petrol and Manual Splitters for sale.
Electric Wood Splitters
Electric Log Splitters provide fast, powerful and long-lasting use with minimal maintenance required. They are incredibly straightforward and easy to use, and you can get started almost straight away with little or no guidance. It's as simple as a push of a button.
A major benefit of Electric Wood Splitters is the low-maintenance requirements. You don't need to worry about refilling the petrol and the hydraulic oil we provide with each splitter will supply you with an estimated 150 hours of effective use, a refill is only required when you start to feel the power has dropped. This typically depends on how hard the logs are that you're splitting.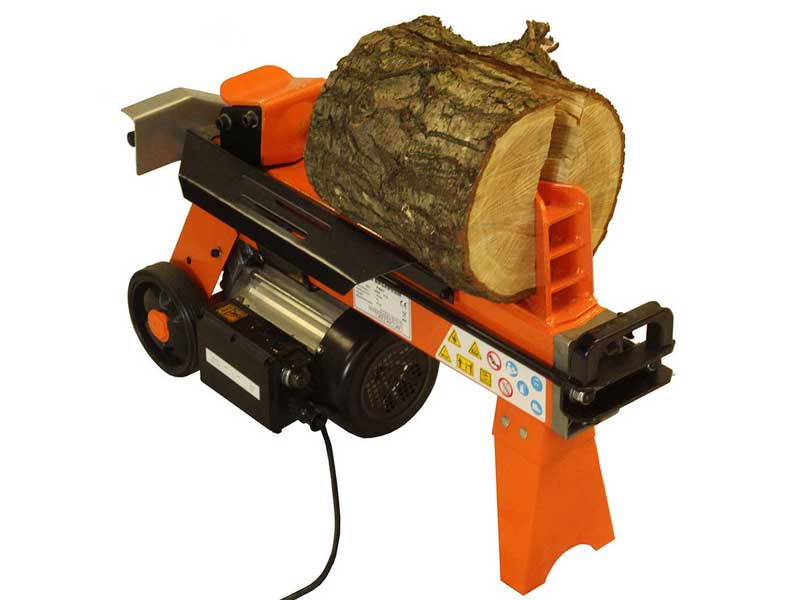 You can operate an electric log splitter anywhere you find a suitable outlet, meaning you can even operate the machine indoors without worrying about fumes. The electric motors are also relatively quiet, so you don't need to worry about disturbing the neighbours! If you live in a suburban area then an electric log splitter is more than likely the ideal choice for you.
You can find a full side-by-side comparison of our electric log splitter range by clicking here.
Petrol Wood Splitters
Petrol Log Splitters are incredibly powerful but are also typically heavier machines than manual or electric splitters. If you don't have access to a power source, then it's worth looking at investing in a petrol log splitter.
The benefit of not having to be plugged in means you can transport and operate your splitter wherever your wood is stored, rather than having to haul your logs to the splitter.
If you want to read a more detailed and in-depth comparison of petrol vs electric splitters, check out this linked article.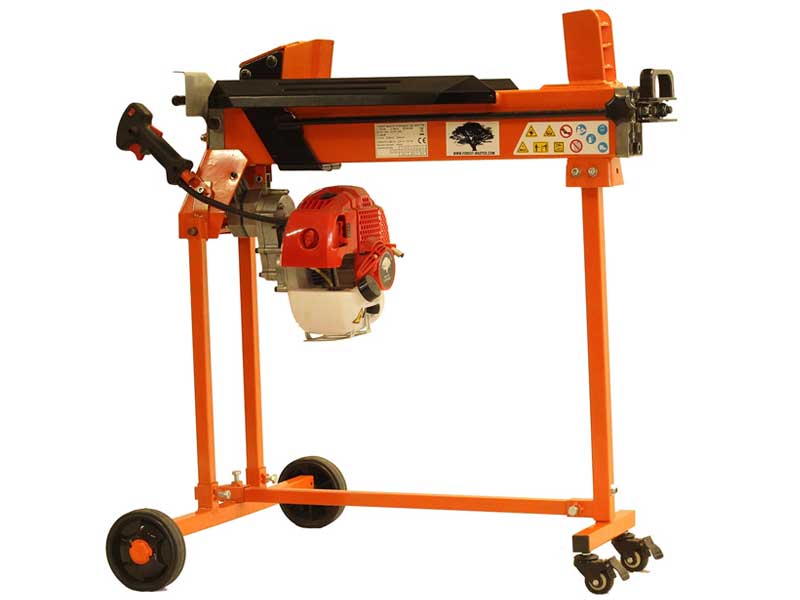 Manual Wood Splitters
Typically, Manual Log Splitters are easier to conveniently store and are more lightweight than petrol and electric log splitting options.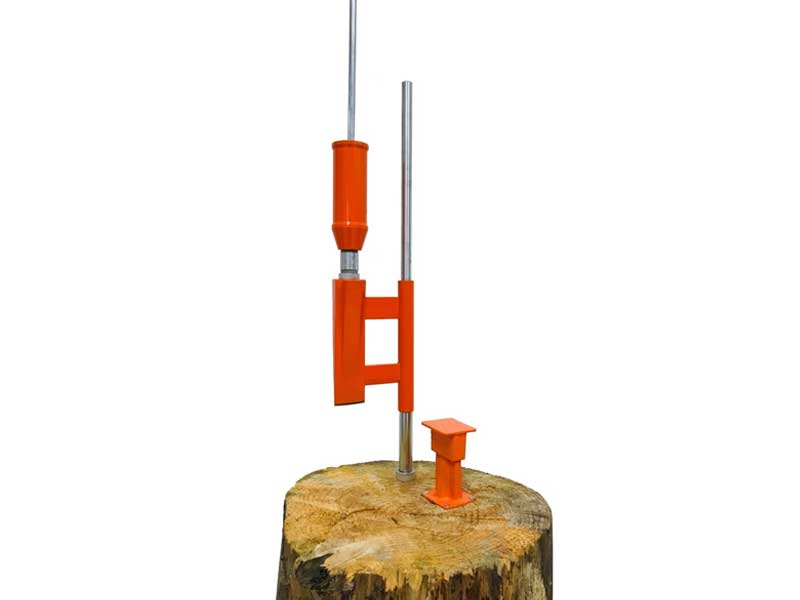 Manual splitters are more physically demanding but are still significantly safer and more efficient than splitting wood with a standard axe.
The manual splitter also requires no fuel or power, so it's also the most environmental and economically friendly of the three possible options.
Manual Splitters do not lack power, our DUO10T efficiently generates up to 10 tonnes of splitting power as well providing a rapid jack for fast splitting.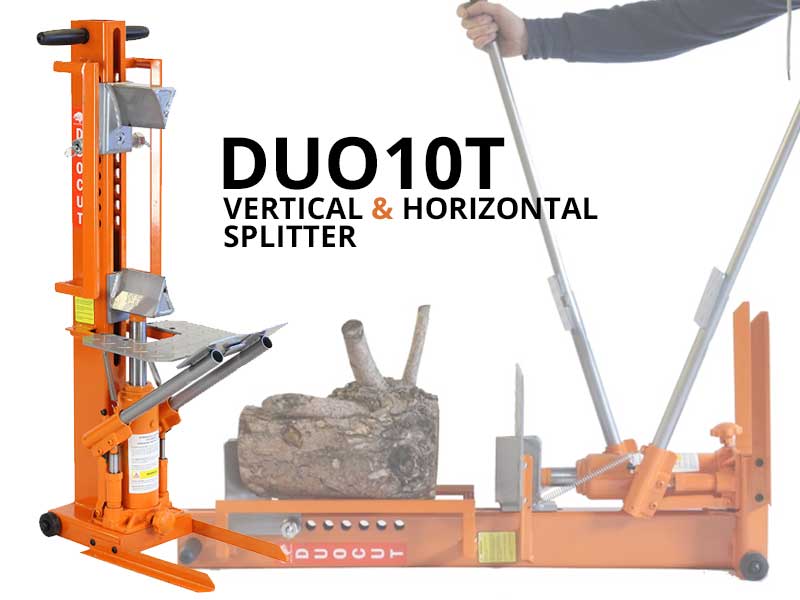 Kinetic Wood Splitter
New to 2021, our kinetic splitters use kinetic energy rather than hydraulics to split the logs. This is based upon a flywheel system that builds up the energy as it spins. Once the lever is engaged it is transferred to the splitting wedge and splits the log in one quick motion
This cutting-edge way of splitting utilizes a 2200w motor and makes easy work of both hard and softwood. It's fast, reliable, and efficient – designed to dramatically reduce splitting to only 3 seconds per cycle!
Without hydraulic systems, there is less need for maintenance. Likewise, it's less likely to get a leak or require constant
Not only does it split wood as fast as you can load it, but you don't tension the belts. Why? Because it features an automatic belt tension system.
Moreover, it features wheels at the rear of the machine and lockable castors to the front.
Due to its burst of power, there aren't many types of wood that a kinetic splitter cannot handle. If you're looking for a quick and efficient way to split wood, a kinetic log splitter may just be the one for you.
Which Wood Splitter is best for me?
This varies depending on several factors; the types of logs you're going to be splitting, how often you're going to be splitting wood, where you want to use your machine and the design or style of splitter you want to use.
Type of Logs
The main thing you must take into consideration is the type of log you are going to be splitting. If you're going to be splitting hard and knotty woods then we'd recommend looking at a 7-ton log splitter as a starting point. You may require a more powerful splitter if you're planning on regularly splitting the harder woods such as Elm or Ash.
Take a look at our fuelwood burning guide to explore the different varieties of soft & hardwood, including density properties that indicate how hard a wood is to split. You can also learn about how efficient each wood is for burning and keeping your home warm through the winter months.
The sizes of the logs you're planning on splitting is also an important factor. Splitters are limited to max log lengths and diameters, so you must be aware of the size of the log you're going to be splitting when selecting the best log splitter for you.
View our side by side comparison of our range of wood splitters and the log capacity of each splitter by clicking here.
How often do you need to split wood?
You must also consider how often you're going to be splitting wood. If you're planning on only splitting softwood a few times a year, then a manual or electric splitter is likely to be the best option for you.
Where are you planning on using the wood splitter?
If you live in a suburban area, then you may want to opt for an electric log splitter in an attempt to reduce noise pollution. If you split logs in a rural area, a petrol splitter will allow you to go directly to the logs to split your wood. You won't need to worry about connecting your machine to a power source.
In the case that you want to operate your splitter indoors and out of the unpredictable weather, then take a closer look at Manual and Electric options.
Design of the Log Splitter (Horizontal & Vertical)
You will also want to consider the design of the wood splitter and how you're going to store it.
Our range of splitters is available in either vertical or horizontal arrangements.
If you're splitting logs for a log burner or fire then a horizontal splitter is likely the more appropriate option for you. Horizontal splitters typically allow you to cut a larger log diameter but are limited to a smaller log length.
Vertical splitters offer a larger maximum log length but can be limited to the diameter of the log.
Wood Splitter Accessories
There are a number of log splitting accessories available to further improve the efficiency, safety and power of your log splitter.
Log Splitter Stands
Wood Splitter Stand (T Stand)
The Forest Master Log Splitter Stand (or T Stand) is a two-wheeled support stand which raises your machine to a comfortable working height without the need to place it on an unsecured table. The front of the stand features a plate foot for support and the rear provides two wheels for transporting and manoeuvring your machine.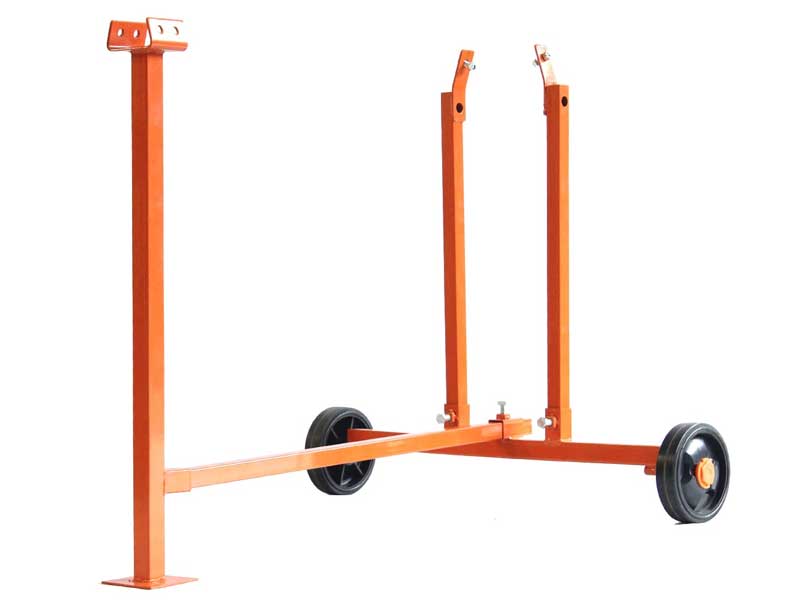 Wood Splitter Trolley (TW Stand)
The Forest Master Log Splitter Trolley (or TW Stand) offers the same benefits as the T Stand but provides much-improved manoeuvrability. The stand features wheels on all corners, meaning it's fully supported and you're able to move it with ease. The T stand only supports the rear of the machine with wheels, meaning you still have to lift part of the weight of the splitter in order to move it.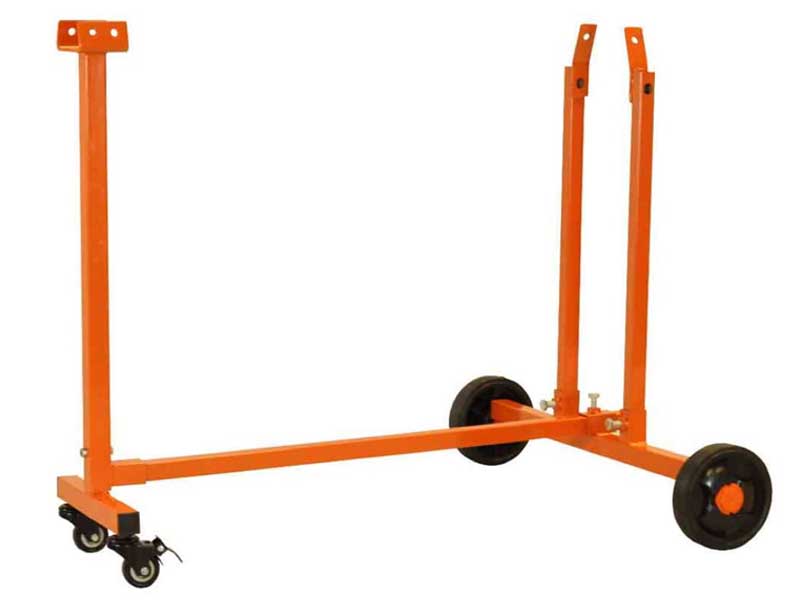 Work Benches and Safety Guards
A Work Bench and Safety Guard Log Catcher is provided with every purchase of a Forest Master Log Splitter. The workbench eliminates the need for you to bend down to pick up logs as they're caught after being split. The bench also provides improved safety as the logs aren't able to fall freely to the floor after they're split.
The safety guard is a community registered design that allows you to split much larger logs than cages from other manufacturers. It provides a maximum log diameter of 400mm whereas the industry standard for cages only allow 250mm diameter.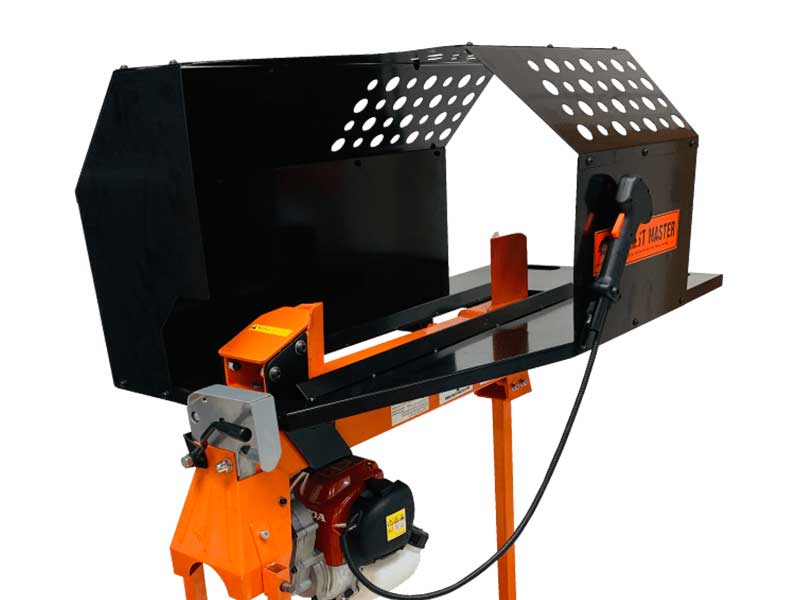 Another feature of the guard is that the vertical sides do not feature any holes, this prevents logs from being trapped when you're splitting them. Often cages are designed with holes or sides which traps logs as they are split.
Power and Efficiency
DuoCut Blade
The patented DUOCUT blade replaces the standard pusher block and increases the splitting efficiency by having two opposing contact points. This allows the splitter to easily cope with knotty wood as when one blade encounters a knot, the other blade continues splitting.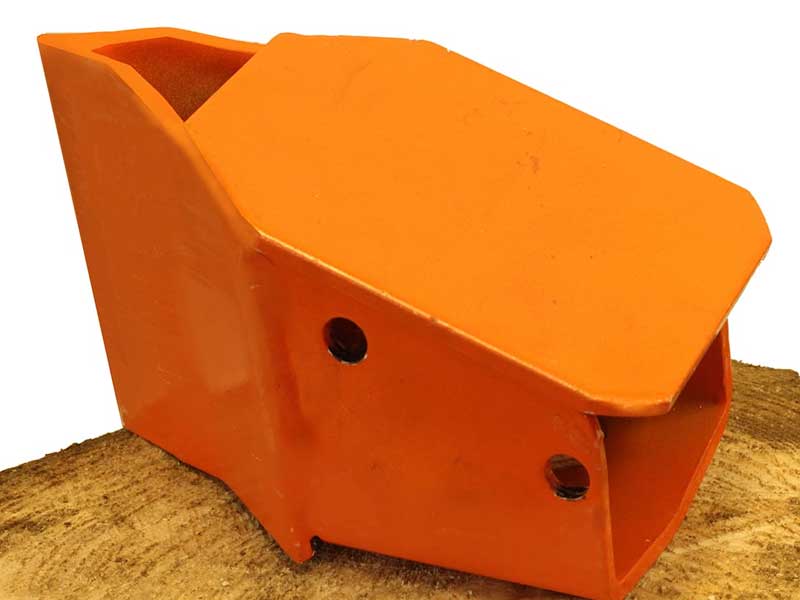 This blade is pre-installed on Forest Master FM10 Series log splitters.
HYD46+ Electric Log Splitter Hydraulic Fluid
HYD46+ Hydraulic fluid has been specially formulated by Forest Master with leading hydraulic oil manufacturers to greatly enhance the performance of electric log splitters. This hydraulic fluid is superior to others on the market due to its uniquely tailored design towards electric splitters. Only virgin oils are used in blending HYD46+, which allows it to last much longer without degrading, compared to cheaper oils which are blended from recycled oil.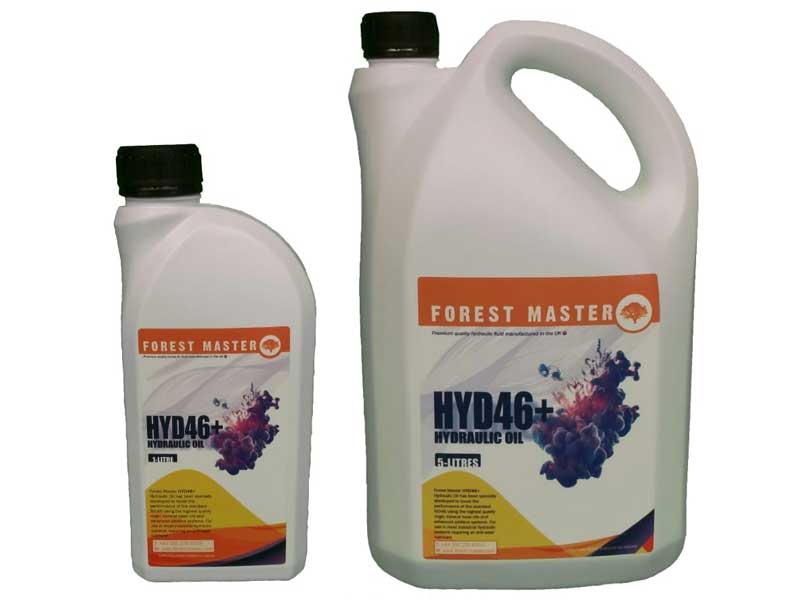 You will see up to a 30% increase in log splitting power when switching to HYD46+ hydraulic fluid.
Moisture Meter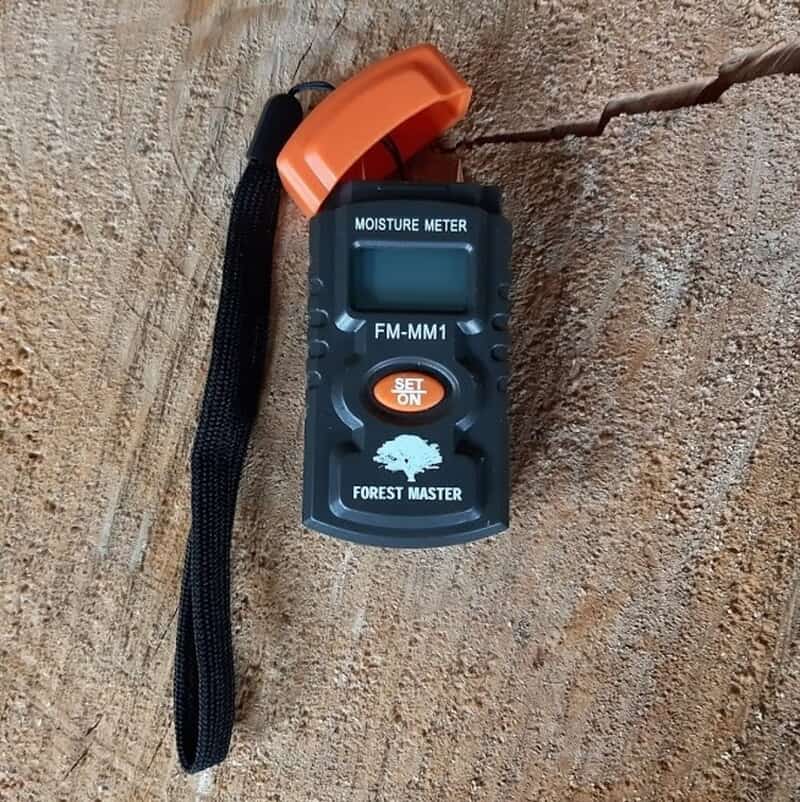 While it doesn't directly affect the performance of the wood splitter, it's very useful and handy to have a moisture meter lying around. The pocket-sized device is used to detect moisture levels in a log, sawn timber and hardened materials. The device is very simple to use and only required one button to operate. It's an essential tool as any wood you burn must be below 20% moisture content – read more about the need for a moisture meter and the risks of burning moist wood in our guide.