Reading Time:
5
minutes
Last Updated on November 11, 2021 by Forest Master
What this article includes:
How powerful a log splitter do you need?
So you're looking at purchasing a log splitter, and figured electric is the way to go due to its simplicity? Good choice.
No messing around with petrol, just plug it in and go. If you want to research further into the benefits of electric vs petrol log splitters, check out this post. But now you're stuck on how powerful do you need your electric log splitter to be?
There is no easy answer unfortunately, it depends on usage, type of wood you're likely to be splitting most often, how big the wood is etc. etc. However, this article is here to dispel some of the myths you've probably been told about log splitters, helping you to make your best purchase. 
I'd like to start off by saying that needing a more powerful log splitter in order to split logs with a larger diameter is a fallacy (*cough* looking at you, log splitters direct).
The hardest part of the log is in the centre, and as your travel outward the log gets "softer", so when splitting a large log you're really just carving the softest part of it. Using log splitting best practice, you should try to avoid splitting through the middle of the log. You should be aiming for just off-centre of the log.
In fact, recently we had a 90-year-old lady tell us how good our DUO10T splitter was, and how she was using it to split her logs which were 2 feet (60cm) in diameter. Personally, I think that's awesome.
So with that out the way, let's dive right in.
5-Ton Splitter
A 5-ton splitter, such as our FM5 is what we consider an entry-level electric log splitter. It's best used for softwood, as when splitting hardwood it becomes a little trickier and requires more planning. That's not me saying it won't do it, but inconvenience defeats the purpose of a log splitter surely.
If you're going to be splitting a small amount of shorter, softer woods, then a 5-ton will do you nicely. If you're slightly more serious, and I suspect if you're reading this then you are, then dismiss that 5-ton thought from your mind because you're gonna want something a little more hardcore.
7-Ton Splitter
Moving on up to 7-ton electric splitters, this is where the fun starts. Our 7-ton splitter, the FM10 is called the FM10 because it's a 10/10 splitter. Just kidding. This is the nice, easy middle ground between electric log splitters.
Easy to use, and will split just about every wood you can put in it no problem, so long as the wood is still green. Add in the DuoCut™ attachment and even knotty wood isn't a problem. This is by far our most popular product. Another major benefit of the duocut blade is that it enables you to also split wood kindling with ease. Check out our blog post guide on how to split wood kindling with your log splitter to see how easy and convenient it is.
The main problem people encounter when using the FM10 is when splitting bigger diameter logs, the blade can get lost inside the log. The angle of the blade is slightly more acute than that of the FM16 8-ton splitter, so whilst it still splits the log it doesn't push the two halves far enough apart for it to split the log fully. And there's nothing more inconvenient than for your log to be stuck on your splitter.
8-Ton Splitter
8-Ton splitters are for the serious, the people who want to be sure their log is gonna split, and those who are splitting wood that is particularly fibrous or tough, such as fruit tree wood. Our model of 8-ton splitter, the FM16 comes with two speeds (which I'll get onto in a minute), ramstop for quicker splitting cycles to get through that large pile of logs quicker, and obviously our DuoCut™ attachment.
The two-speed splitting cycle is important, as obviously you should be splitting freshly chopped wood whilst it's still green. This is when it's the easiest to cut before the moisture has evaporated and it becomes denser and thicker. However, if you should happen to be splitting seasoned wood, then rather than a smooth splitting motion all the way through the log, the seasoned wood absorbs the pressure until it pops with an almost explosion-like effect. This is when an injury is most likely to occur. This is why our FM16 electric splitter comes with two speeds, a half-pressed trigger allows the blade to move slowly into the log and prevents the log from shattering.
Additionally, the blade itself is set at a more obtuse angle. This is for the more fibrous woods, in which smaller blades can simply get lost inside. The wider angled blade opens up the log to make sure it splits all the way through. Genius, really.
Electric log splitter comparison chart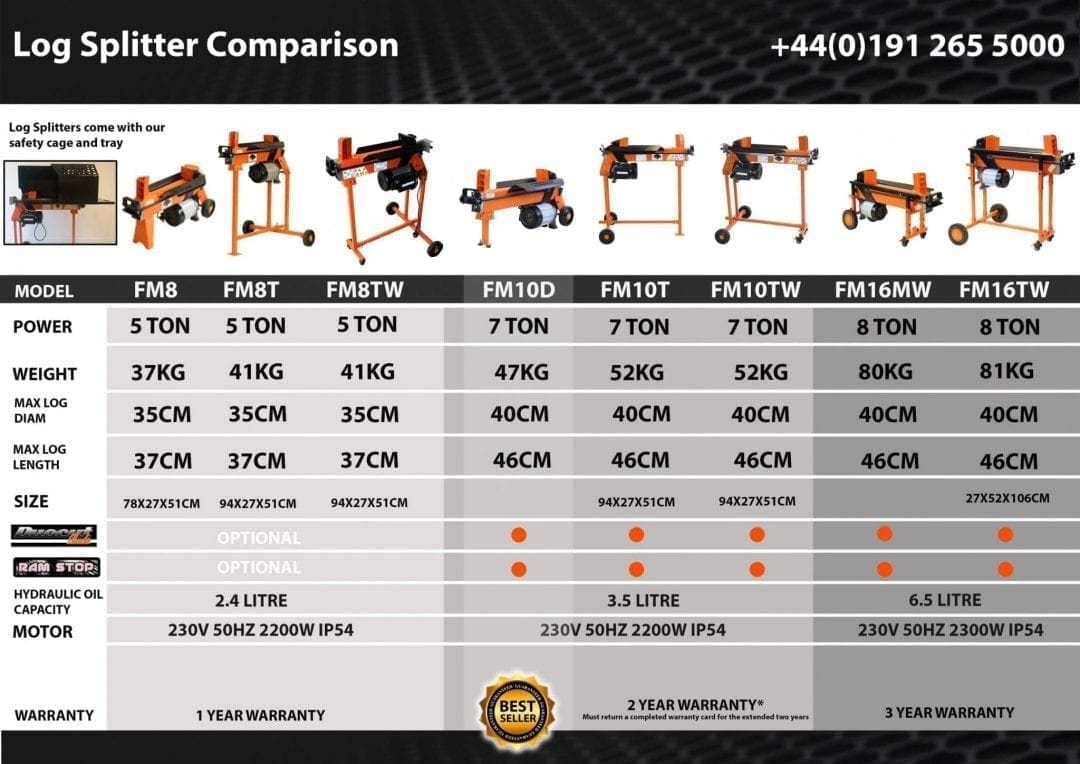 Like this article? Check out our others, or sign up to the Forest Master newsletter to keep up-to-date