Reading Time:
10
minutes
Last Updated on March 28, 2023 by Forest Master
There are many benefits of using logs as a source of fuel for heating homes and buildings during the winter. It can create a cozy atmosphere, especially when the weather outside isn't good and it's dark and gloomy.
1. Make a gift for someone
Upcycle your logs and wood and create a gift for someone at Christmas. Sometimes there's nothing better than receiving a homemade gift, making something unique and different and it can provide more sentimental value than something bought from a shop. Here are some gift ideas that you can make yourself using your logs this winter:
Coasters – These are some simple yet decorative gift ideas that can be made with logs. You could add paint/varnish to them to give them a different look.
Bowls – This can be made by cutting a log into slices and glueing the slices together to form a bowl shape. Alternatively you can carve out a bowl shape if you have a bigger log and sand it smooth.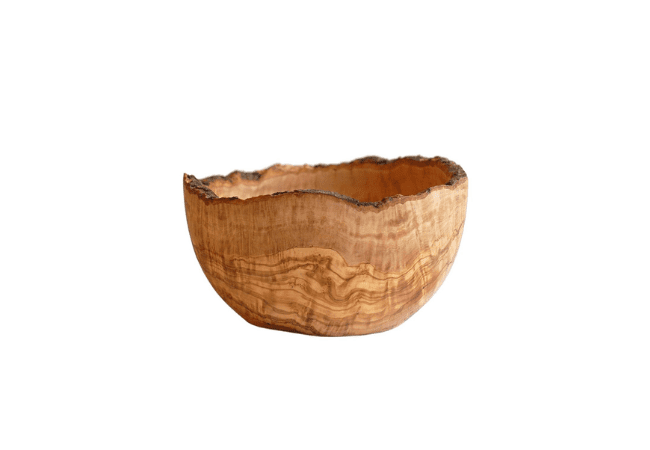 Vase – This can be made by drilling a hole into a log and inserting a glass vase into the hole. Add some water and flowers to the vase and it's ready.
Candle holders – These can be made in different ways depending on the type of candle you want to use and how you want the candle holder to look. The easiest way to do this is by getting a nice piece of wood such as a birch branch and drilling holes in it. This would be done with a Forstner bit on a drill. Get some tea light or candles and based on the size of candle you are using, make sure that the hole can fit the candle.
Pencil holders – Similar to candle holders, these can be made by drilling holes into a log and inserting pencils into the holes. Depending on the log you can make different and creative designs based on where you put the holes.
Picture frames – This can be made by cutting a log into slices and attaching a picture frame backing to the slices.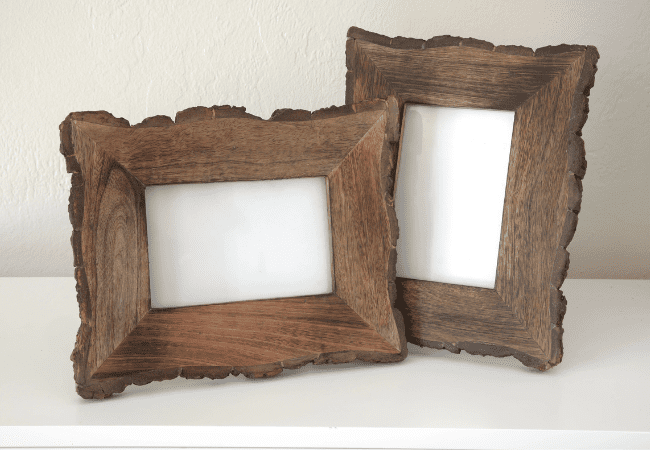 Clocks – This can be made by carving or painting numbers onto a log and attaching clock hands to the centre.
2. Make a Christmas decoration
Get in the festive spirit and make some decorations for your home this christmas. Wood and logs are great for creating a christmas vibe in your home or garden.
Log centrepiece – Make a log centrepiece for your table by placing a few logs on a large platter and adding some small pine cones, holly berries, and festive ribbon.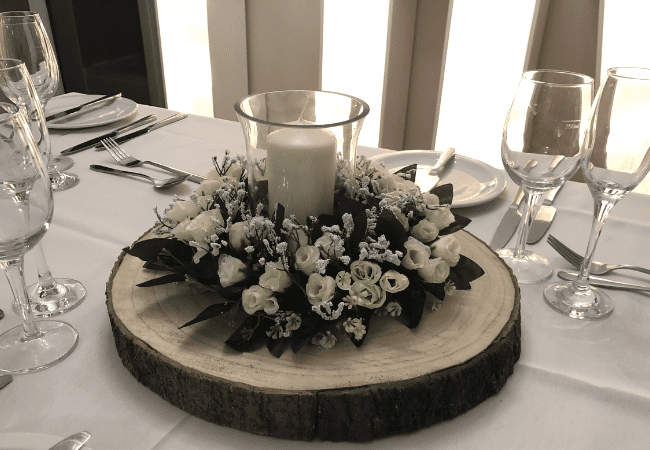 Log slice ornaments & decorations – Cut thin slices of log and use a drill or wood burner to create holes for hanging. You can also decorate the slices with paint or markers, or attach other small decorations such as pine cones, beads, or ribbons. Smaller, thinner ones can be even used as tree decorations as long as they are light enough.
Log Christmas tree – Cut logs into various lengths and stack them on top of each other, starting with the longest logs at the bottom and working your way up to the shortest logs at the top. You can decorate the logs with paint, glitter, or other small decorations.
Log snowmen – Cut two or three logs that all differ in size and stack them on top of each other on their sides. Decorate them with paint, buttons, and other small decorations. You can also attach sticks or twigs to create the arms.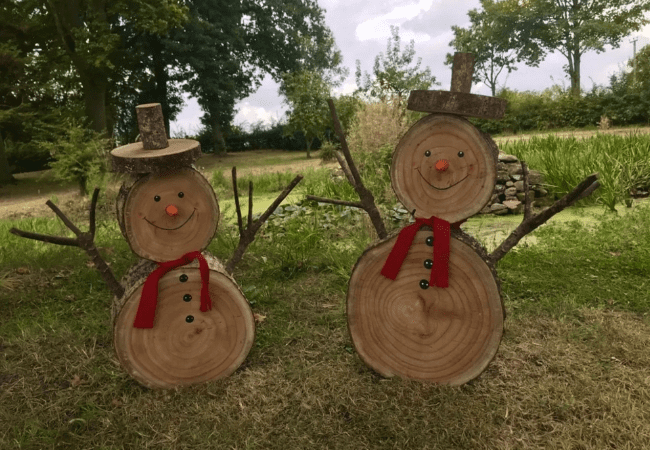 Log reindeer – Cut a log into the shape of a reindeer head, using a saw or chisel to create the features. You can paint the reindeer head and attach antlers made of sticks or twigs and put a nose on it using pompoms or even a pinecone painted red.
3. Make furniture or garden decorations
Logs are often used in cabin and lodge-style decor, and can add a cosy, inviting feel to any space. You could also think about making decorations or even furniture that would be suitable all year round. If you are looking for a more rustic look with your decor then using logs is a great way to do so.
Garden arrangement – Prepare for spring by making a garden arrangement to accommodate the new plants and flowers you will be introducing in spring. Create an area and surround it with a fence of logs. You can then fill it with wood chippings or gravel and then add whatever you like.
Log planters – Cut logs into the appropriate lengths and shape them into planters by drilling or carving out a space for plants to grow. You can also attach metal or plastic liners to the inside of the log planters to make them more durable.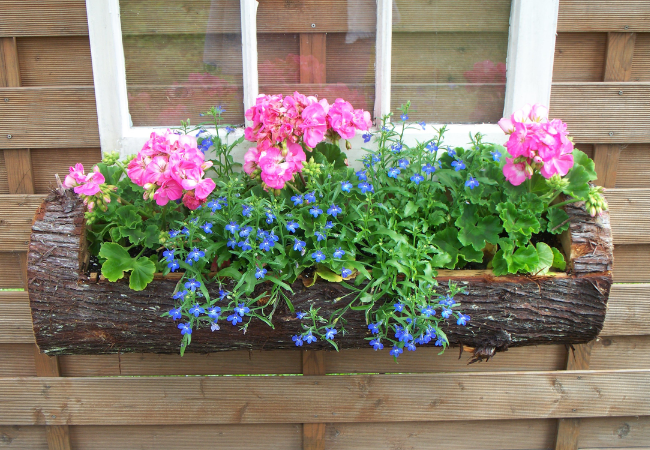 Log trellis – Cut logs into the appropriate lengths and shape them into a trellis by carving out slots or attaching metal or wooden rods. This can be used to support climbing plants such as ivy or tomatoes.
Log stepping stones – You can use log slices as stepping stones in your garden. Cut logs into appropriate sized slices depending on how you want them and attach metal or wooden rods through them to hold the log slices sturdy and together. Finally, place them securely in the ground.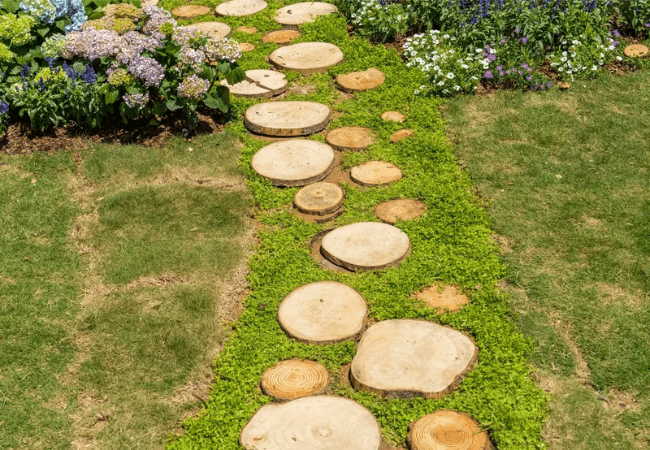 Log bench – Cut logs into the appropriate lengths and shape them into the legs and back of a garden bench. You can use a jigsaw or a chainsaw to create the desired shape, and then attach a wooden board or piece of glass to the top to create the seat.
4. Create a fire wood display
If you own a log burner or fire that you use often you could utilise the wood and create a nice looking display with the logs. You can display your logs in different ways, for example you could go for a simpler option and leave them out in a basket which can come in different sizes and designs. You could also take it a step further and build something like a shelf or alcove and stack logs up neatly in it. There are plenty of different ways to do it, don't be afraid to get creative.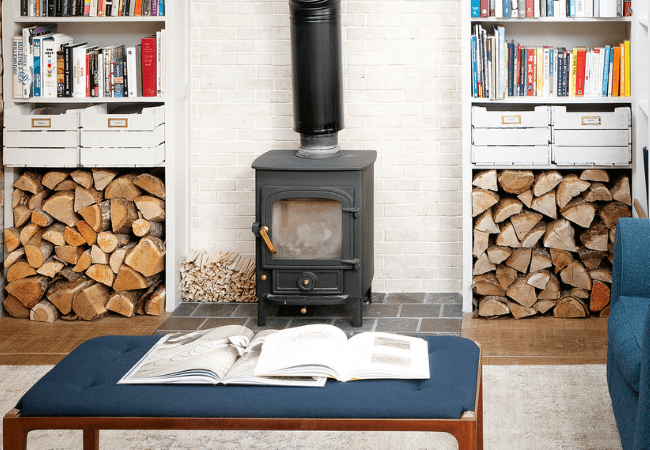 5. Make something for the children
Creating something for kids to play in is a good way to use logs and keep them happy and entertained. Here are some effective ways to create entertainment and play areas for them to spend time in:
Sledges– One way to have fun and keep children entertained is sledging. Build a sledge using your logs for when the snow comes and you can provide endless fun for children.
Swing – Swings are something simple you can make with a log and some rope, depending on how you want it to look and how much time you are willing to spend, you can make a more complex and better looking one.
Balance beam – You can create a balance beam by placing logs or log rounds on the ground, spaced a few feet apart. Children can walk or run along the beam, improving their balance and coordination.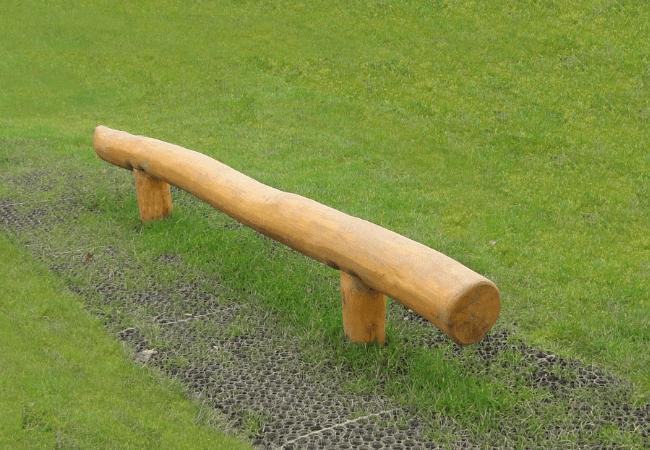 Log climber – Create a log climber by stacking logs or log rounds in a pyramid or other configuration. Children can use it to climb up and down and keep active.
Fort or shelter – You can build a log fort or shelter by stacking logs in a teepee or A-frame configuration. They can use the fort as a play area or a place to hide and seek.
Obstacle course – You can create an obstacle course using logs and log rounds as obstacles to climb over, crawl under, or balance on. Get creative to make it more challenging and fun but make sure that it is safe first and foremost.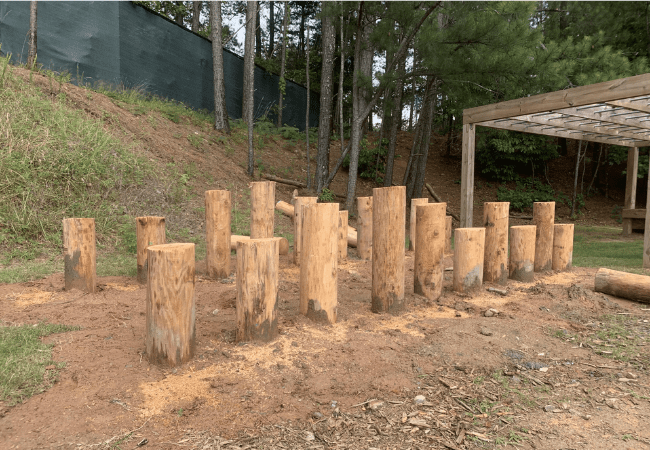 Seesaw – You can make a seesaw by placing a log or log round on a fulcrum, such as a sturdy piece of wood or a large rock. Children can sit on either end of the seesaw and push off the ground to make the seesaw move up and down.
Keep in mind that all of the suggestions here should be made and used with care. Children should be supervised by an adult when using them.
6. Habitat for wildlife, such as birds and insects
Using your wood to create habitats for wild animals is a great way to do your part and help nature this winter. Building habitats for animals like birds and squirrels can not only provide some shelter for them but also provide some entertainment as you observe them moving around your garden. If you have children to entertain you could also create habitats for insects and let them observe the different species that may turn up.
7. For making homemade charcoal by slowly burning logs in a controlled environment
Homemade charcoal can be used for a variety of purposes, including grilling food, providing heat for a fireplace or stove, and as a component in certain types of artwork. It can also be used as a natural and environmentally friendly alternative to commercial charcoal for a variety of purposes. It is created by burning organic material in a low-oxygen environment. Here is how you can make your own charcoal:
You will need:
A metal drum or barrel with a removable lid
A metal grate or rack to hold the fuel
Logs
A metal pipe or chimney for ventilation
Clay or soil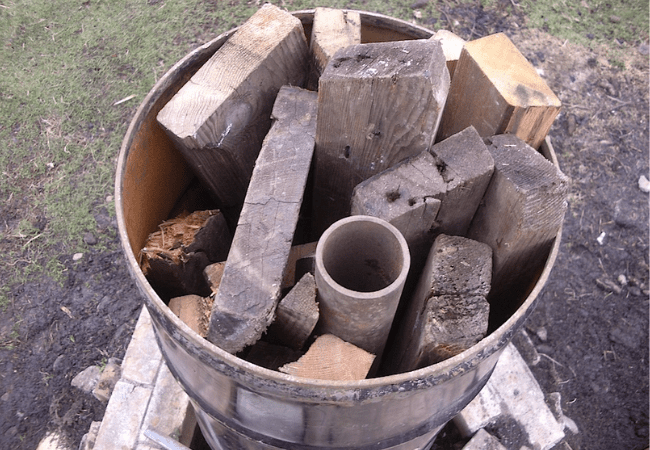 Here are the steps on how to make homemade charcoal:
Cut the wood or other organic material into small pieces and place them on the metal grate or rack. You can use a manual or powered log splitter to make this easier.
Place the grate or rack inside the metal drum or barrel.
Cover the top of the drum or barrel with the metal lid, making sure that it is secure and tightly sealed.
Using the metal pipe or chimney, create a small hole in the lid for ventilation.
Fill the bottom of the drum or barrel with clay or soil, leaving enough space between the bottom of the drum and the clay or soil to allow air to circulate.
Build a fire around the base of the drum or barrel, using the ventilation hole to control the heat and oxygen levels inside the drum.
Allow the fire to burn for several hours, until the logs have been converted into charcoal.
Once the process is complete, let the drum or barrel cool down before removing the lid and retrieve the homemade charcoal.
Here are some examples of how homemade charcoal can be used:
Grilling food – Charcoal is a popular fuel for grilling, as it imparts a unique flavour to the food being cooked. Homemade charcoal can be used in the same way as commercial charcoal for grilling, and can be used in a charcoal grill or a portable grill.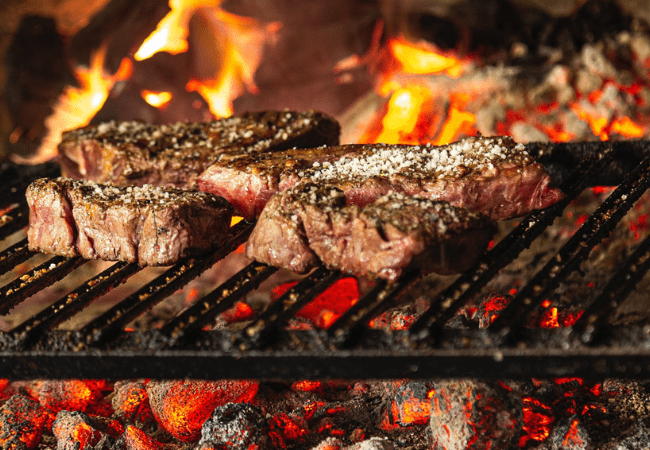 Providing heat – It can be used as a fuel for a fireplace or stove, and homemade charcoal can be used in the same way as commercial charcoal for this purpose.
Artwork – Charcoal can be used for drawing and sketching, and homemade charcoal can be used in the same way as commercial charcoal for this purpose.
8. Outdoor activities
If you are stuck for things to do, especially if you have children, using logs and fire in a safe way can be a great way to pass the time and keep them entertained. Activities such as roasting marshmallows can be a great way to enjoy time with your family and friends. Get two graham crackers and spread chocolate or Nutella on them, add a roasted marshmallow between them to make s'mores.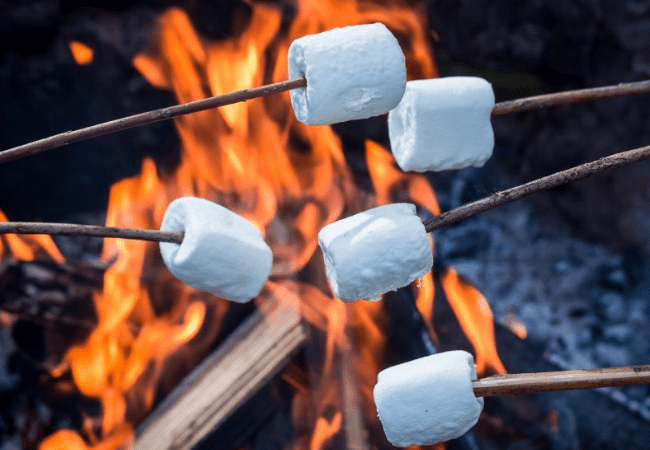 ---
Hopefully this guide has provided you with some ideas to get the most out of your logs and shown you a few things you hadn't seen before. If you have any ideas of your own, don't be afraid to experiment with your logs!