Last Updated on March 8, 2021 by Forest Master
The following is an addendum to the manual provided with the garden mulcher (8th March 2021)
Complete steps 1-4 of the FM6DD-MUL assembly instruction manual as usual. Before completing step 5 of the manual, perform the following instructions written below.
(1) First, place the engine/motor unit on its side as demonstrated in the image displayed below. Please ensure that the engine has not been filled with oil or petrol at this time.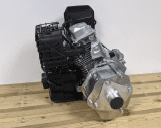 (2) You can now slide the discharge chute into the mulcher drum. The upper flange of the discharge chute should slide in above the bolt as displayed in the image to the left.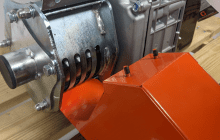 (3) After sliding the discharge chute into place, you can then secure and fasten the chute using the necessary M6 bolts (50), M6 spring washers (59) and M6 washers (41).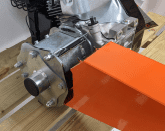 (4) After completing the aforementioned steps, you can then lift the engine/motor unit with the attached discharge chute on to the base of the mulcher and continue with the manual as standard.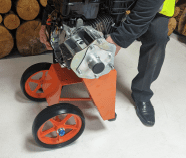 Category: 6HP Petrol Mulcher (FM6DD-MUL)