Reading Time:
5
minutes
Last Updated on March 29, 2021 by Forest Master
So you've just finished chopping up your logs to use in your log splitter, and now you need to give them time to season. What you need is a good log store, as that will speed up the entire process. But how do you know which one to go for? What makes a good log store, or a bad one? This article will explain exactly what you need to look for in a good log store to get the most out of your money and let your logs season as quickly as they can. I'll then show you our favourite stores that we've across, and what exactly it is we love about them to help you make an informed decision.
What makes a good log store?
Good timber
A good log store is simple in nature but provides a couple of things that are crucial to giving your logs the best environment to season quickly and properly.
Firstly, the material that it is constructed from is hugely important. It's the difference between your brand new, fancy log store disintegrating in a couple of years or standing firm against weather and lasting. What you should be looking for is something that's made from treated timber, with a weather-resistant finish. Without this, your wood is exposed to the elements 24/7 and will be a pile of sawdust within a couple of years. And because we're environmentally friendly here at Forest Master, we encourage you only buy products made from FSC certified wood.
Aeration and raised
A good log store will be raised off of the ground to prevent moisture seeping into your logs and preventing them from seasoning, have plenty of airflow (again for the same reason) which usually means gaps or slats in the side that allow direct airflow all the way around, and a weather-resistant roof that overhangs the contents of the log store to prevent rain hitting your logs. A top tip is to get a log store that is angled downward from the back to front, so that if you place your log store against your home it doesn't drip water onto the brick which can cause damp problems.
Size and Design
We'd always recommend getting the largest log store possible for your budget, as it's no problem having it half full, but having logs left over when your store is full presents a problem. Some log stores even come with separate store areas, such as a raised shelf, for kindling or smaller logs. Obviously this helps stop your smaller logs getting lost in between the larger ones, but also gives them a chance to season quicker as they won't be fighting for air supply in the midst of all your larger logs.
What To Avoid
You should avoid any log stores that contradict the attributes stated above, as they will not allow your logs to season quickly or properly, and can even lead to further problems such as log rot, or spreading damp.
We get a lot of people asking whether a shed can be used to store and season logs, and whilst the answer is generally yes, a shed would work, it is not ideal. Using a shed will not only restrict airflow, but will often trap in moisture, raising humidity levels inside and further elongate the process.
Our Top 3 Picks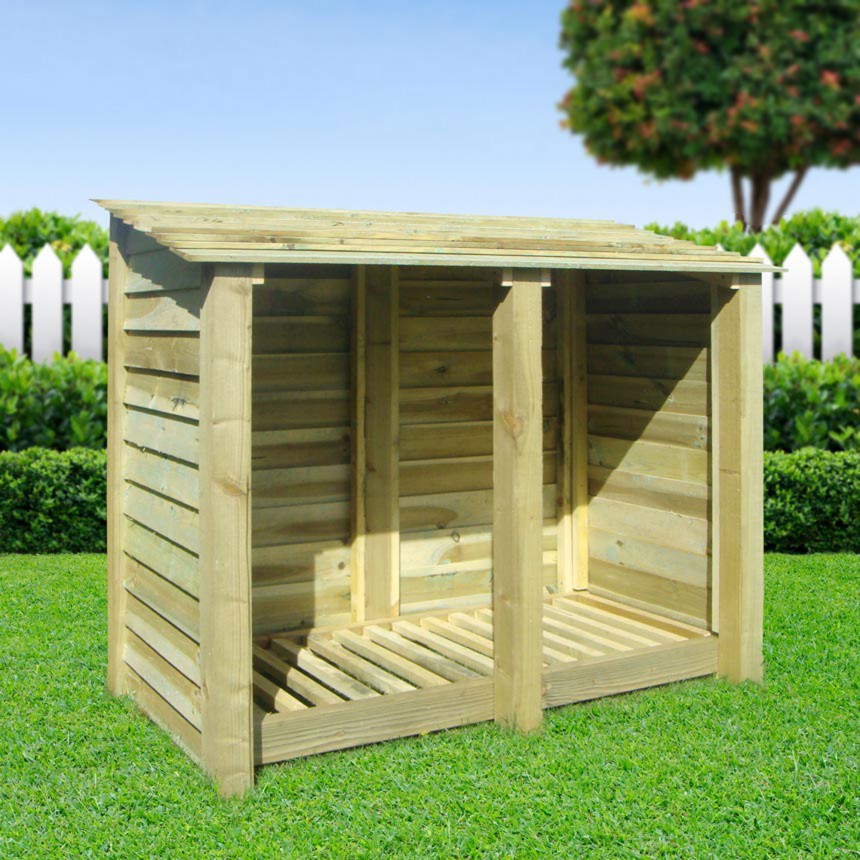 Our favourite log store we found, the 4ft Cottesmore log store did everything we needed, is built from sustainable FSC certified timber and even the fixings are treated to be weather resistant!
This model comes with the option of no doors, one door or two doors depending on what you want, and provides both a raised platform for your logs and good airflow for seasoning.
The dimensions of this particular model are W150cm x D76cm x H129cm and it will hold just over 1 cubic metre which is enough room for a small log delivery, which for most people is plenty.
Comes flatpacked as standard, and is fairly easy to construct using only a screwdriver though we would recommend using a drill just for ease and saving time.
The XL log store from The Garden Supplies Centre was our choice if you needed something to store a lot of logs. This log store will easily hold 2m3 of logs, whilst providing everything necessary to season them as quickly as possible.
Made from sturdy 3×3 posts and featheredge boards, this timber is pressure treated to guarantee it will withstand the worst of what British weather can throw at it for up to 15 years (manufacturers guidelines). It is not FSC certified wood however which is a shame.
The dimensions for this log store are as follows – L 2660MM X H 1310MM X D 690MM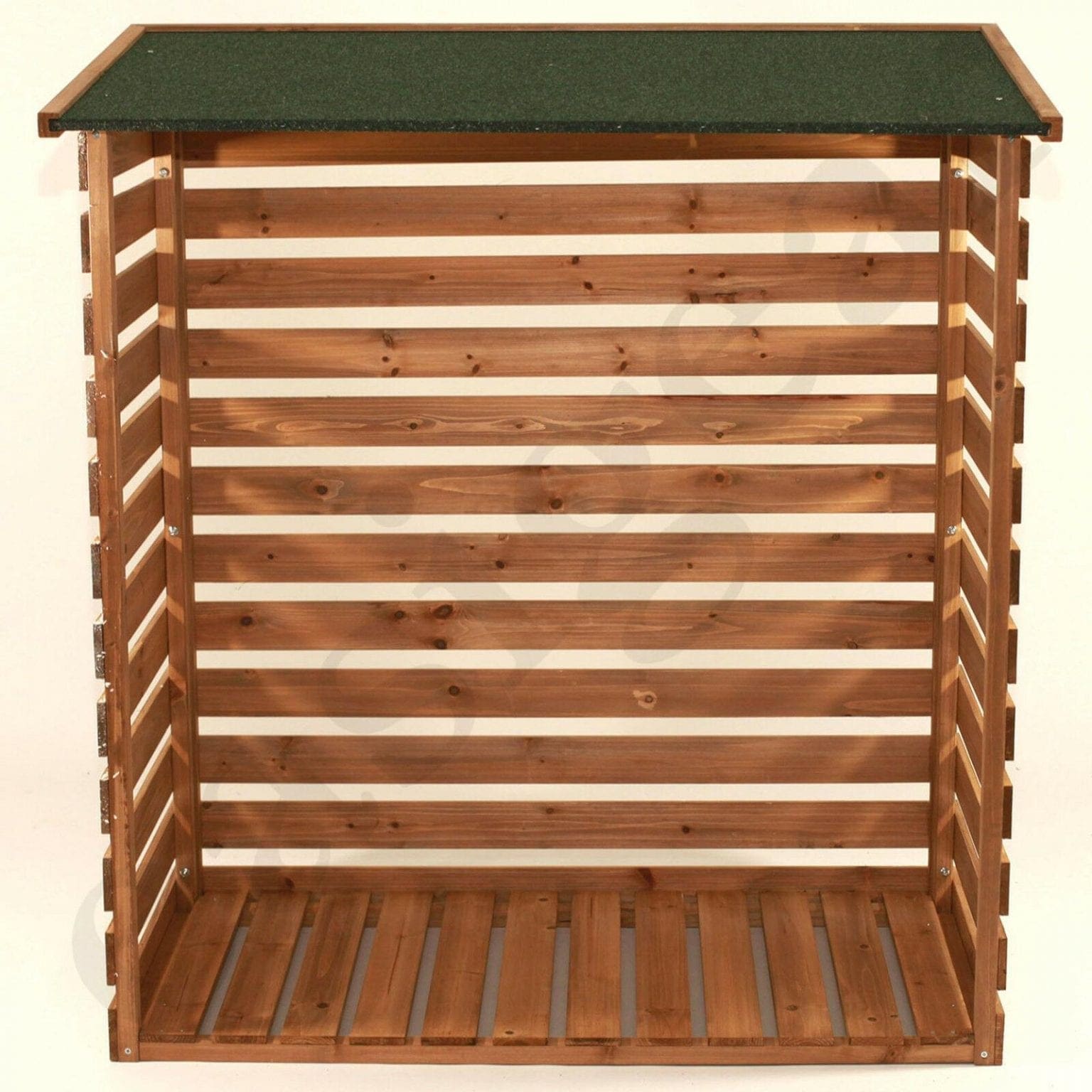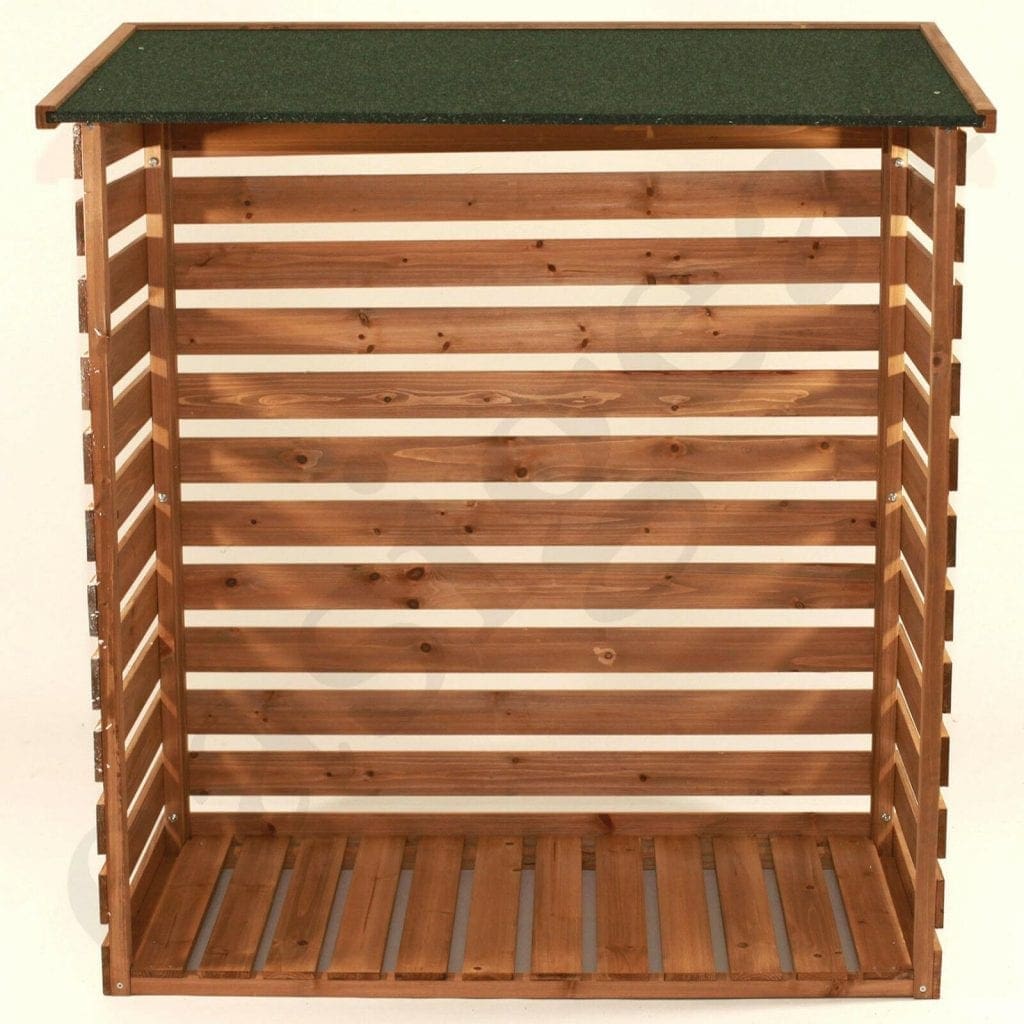 And for the most humble option of the bunch, we opted for the Easipet Wooden Log Store. It's an excellent choice if you only need to store a small number of logs, quoted as having a 0.73m3 capacity. Its exact dimensions are 1230mm height x 640mm depth x 1160mm width.
As with the others, the design of the Easipet Log Store features a raised bed to keep the logs from sitting on any damp ground, and excellent aeration due to the gaps in the slats. It also comes with a felt covered roof for added protection from the elements.
Like this blog post? Check out some of our others for the best insider tips and tricks.