Before beginning – check that you have the required assembly parts as listed below :
Battery Tray – 1
M5x125 Bolt – 2
M5 Nut – 2
Battery – 1
Ignition Key – 2
Attach the battery tray to the underside of the base (42) using the 4 bolts that secure the engine to the base.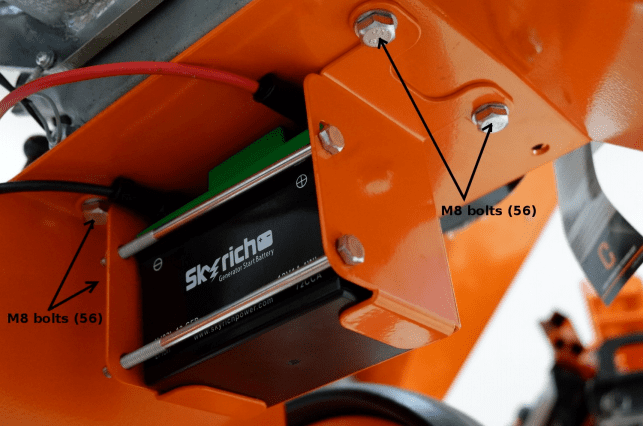 Connect the battery wires to the terminals on the battery red to positive (+). Place the battery on the tray and secure using two M5 x 125 bolts and nuts.
Starting the FM6DD or FM6DD-MUL with the Electric Start
Ensure that the fuel shut-off valve is in the 'ON' position.

Move the choke control lever to the 'CHOKE' position (this should only be required if the engine is cold or not starting).

Move the throttle control lever to the 'FAST' position. Then turn the ignition key to the 'START' position. As soon as the engine starts, allow the key to turn back to the 'RUN' position.

Move the choke control lever (if used for cold engine) slowly back to the 'RUN' position when the engine is running well.

If the wood chipper has not been running (cold engine), warm up the engine by running the engine at half throttle for 3-4 minutes, then advance the engine throttle control to the maximum speed.

Stopping the chipper
Move the throttle lever to 'IDLE'.

Turn the Ignition key to the 'OFF' position.