Forest Master – Frequently Asked Questions
Explore a range of frequently asked questions regarding our equipment, as well as general log splitting, gardening and forestry-related questions. Is your question not here? Submit a question by emailing us at info@forest-master.com.
---
6HP Petrol Mulcher (FM6DD-MUL)
The following is an addendum to the manual provided with the garden mulcher (8th March 2021)
Complete steps 1-4 of the FM6DD-MUL assembly instruction manual as usual. Before completing step 5 of the manual, perform the following instructions written below.
(1) First, place the engine/motor unit on its side as demonstrated in the image displayed below. Please ensure that the engine has not been filled with oil or petrol at this time.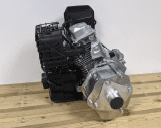 (2) You can now slide the discharge chute into the mulcher drum. The upper flange of the discharge chute should slide in above the bolt as displayed in the image to the left.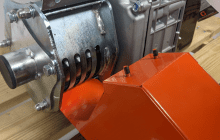 (3) After sliding the discharge chute into place, you can then secure and fasten the chute using the necessary M6 bolts (50), M6 spring washers (59) and M6 washers (41).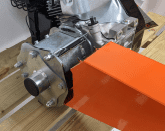 (4) After completing the aforementioned steps, you can then lift the engine/motor unit with the attached discharge chute on to the base of the mulcher and continue with the manual as standard.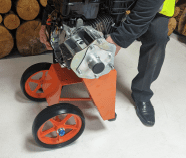 The mulcher is perfectly capable of receiving and processing wood branches, sticks etc. The material produced by the machine however will be 10mm down – you will not receive large wood chips from the wood placed into the machine. If you wish to process wood into wood chips, then you will require our wood chipping accessory kit for the mulcher.
The FM6DD-MUL is perfectly capable of processing both paper and cardboard. However, cardboard can take the edge off the blades quicker than when using the mulcher to process standard green waste. If you see a drop in performance in the machine after processing cardboard, it's likely because the sharp edge has been removed from the blades.
These blades can be sharpened using an angle grinder or you can purchase spare replacement blades directly from ourselves. Remember that the blades are also reversible so once one side dulls, you can simply reverse the blades over and use a fresh set.
If you have been working with wet material – you may wish to wash down the machine using a hosepipe. To perform this simply spray water down into the mulcher hopper feed while the engine is running. After you have finished hosing the mulcher down – leave the engine running for a few minutes to allow the machine to dry itself off.
---
Can't find your question? Submit it below.